Amazin' Graze is turning seven years old in August and is celebrating seven wonderful years of #eatingbettertogether with its community by launching a new product – the Hummus Chips, adding on to its seven categories of amazin' food.
"We have come a long way in building such a fun and healthy food brand. We would not be where we are today without the support of our amazin' community and team. To celebrate our amazin' 7th year anniversary, we have decided to add an interesting and fun twist to our product, the healthy and guilt-free snack – Hummus Chips to hype up the crowd." says Amy Zheng, Founder and CEO of Amazin' Graze.
Amazin' Graze's seven categories include the timeless and well-loved range of Granolas, which features bestselling flavours like Hazelnut Blackforest and Blueberry Goji Coconut. Also included are the crunchy and savoury Nut Mixes and the range of all-natural Nut Butters.
The list doesn't just end there; the deliciously filling and convenient range of Instant Oatmeal Goodness Bowls is also a crowd favourite. Many have chosen to pair the meal-in-a-bowl with some Brownie Chips and Amazin' Graze Healthy Essentials, a range of high-quality raw ingredients that is perfect on its own or as a topping.
Fast forward to early this year, the vegan Protein Blend range was launched, completing Amazin' Graze's seven categories. The launch received an outstanding welcome, selling more than 1000 packets since it hit the market. As for the upcoming Hummus Chips, the unique snack designed to satisfy all taste pallets will feature three flavours, including Lightly Salted With Sea Salt, the Southeast Asian-inspired Thai Chilli Lemongrass, and the sweet and sour pairing of Sweet Tomato and Basil.
Like all Amazin' Graze products, the yearly exclusive Amazin' Graze Birthday Bundles will also be available for sale during the entire celebration month of August. Not only that, Amazin' Graze members can enjoy a Private Sale a few days ahead of our Public Sale. All seven categories of Amazin' Graze's goods can be purchased through online stores at amazingraze.com.my or at the nearest hyper or supermarket near you, listed here.
Finally, with the presence of Amazin' Graze in Malaysia, Singapore, Hong Kong, and Australia, customers can enjoy our complete Birthday Bundles and exclusive sales and kickstart the journey of #eatingbettertogether!
Alpro Pharmacy, Malaysia's largest prescription pharmacy, has pledged to strengthen its Environmental, Social, and Governance (ESG) practices in day-to-day operations and organizational culture. This comes after the pharmacy's recent inclusion as part of the world's largest corporate sustainability initiative, the United Nations Global Compact (UNGC).
UNGC is a United-Nations-certified global movement that aims to mobilize sustainable companies and stakeholders to create a better world.
In line with the inclusion, Alpro is ready to increase its efforts and take concrete steps to support the Ten Principles of UNGC. The ten principles of UNGC cover a wide array of issues that include human rights, labour, environment and anti-corruption and take actions that advance societal goals and implement the Sustainable Development Goals (SDGs).
ESG practices have always been a part of the Alpro DNA. The pharmacy chain carried out various instrumental initiatives throughout its 20 years in Malaysia, including notable campaigns such as Safe Medication Disposal Campaign, the Growing Stars Project, ProjectBangku and Save2Safe, to name a few.
Branding, Promotion and Trade Marketing Director Lee Yin Chen said that the recognition by UNGC is a reward to the brand's mantra of putting community first before commerce.
"Alpro has been in Malaysia for 20 years, and since day one, we place our service to the community as our utmost priority. We believe this is the mantra that carried the brand and will continue to do so for years to come.
We are delighted to be recognized as the first community pharmacy in Malaysia committed to taking responsible business action by UNGC. We pledge to continue creating campaigns and collaborations that can help make the world a better place," said Yin Chen.
The pharmacy's CSR arm Alpro Foundation has recently launched a fund-raising project by selling BPA free Charity Water Bottles in collaboration with Elianware Malaysia, a leading local plastic container manufacturing company. All proceeds from the sale of the 1L Charity Bottles will go to the Growing Stars Project, a project that Alpro Foundation has been successfully conducting since 2019. The project aims to provide financial assistance to underprivileged students throughout Malaysia, and more than 300 students from various backgrounds have benefited from the program thus far.
Alpro has also launched its ProjectBangku campaign, where unused wooden pallets are given a new lease of life by being upcycled into wood benches. Currently, these benches are placed outside of selected Alpro Pharmacies in Kelantan, Melaka, Negeri Sembilan, Johor, Pahang and Selangor.
To learn more about Alpro Pharmacy and its ESG initiatives, you can go to https://www.alpropharmacy.com/. To support Alpro Foundation's cause and keep up with all the latest updates on the ongoing campaigns and charitable efforts, please follow www.alpro-foundation.com or contact us via mobile at 019-388-1923.
Plastic consumption has become a global issue causing excessive pollution. Despite its cost effective, durable and versatile uses for just about anything, plastic is not a biodegradable material. Your daily single-use plastic bags from groceries stores take about 10-20 years just to decompose! Whereas plastic straws will take around 200 years. Other forms of plastic may even take up to 500 years! Now isn't that a long time?
However, it would be impossible to cut off plastic use and consumption in our lives. Plastic is a very affordable material which is why it is so widely used. Plus, it's done wonders for our society. From infant car seats to medical devices, its contribution to the world has kept innumerable people safe and healthy. From toothbrushes to ready-packed food, you name it – we grab them off the shelves at our convenience, making our lives less difficult to go on and about.
Nonetheless, plastic pollution is a global issue that should not be taken lightly. It is filling up our oceans and is one of the main reasons why millions of marine life die each year.
In conjunction with Global Plastic Free July, we want to empower society to reduce single-use plastic in hopes of helping to reduce plastic consumption as a whole. Change needs to happen, but change should also start from within in order to mitigate this global issue that we are facing.
In light of this, here are some tips on how you can reduce single-use plastic:
Bring your own container and cutlery sets when taking-away food.
Swap plastic bottle and straws to reusable options.
Bring your own bag for groceries and purchases.
Bring your own reusable cups for outside drinks.
Switch to beeswax wrap instead of plastic wraps.
Stop using bottled laundry detergent and switch to Ecoegg Laundry Egg.
Ecoegg provides a solution for those wanting to reduce their single-use plastic consumption. The Ecoegg Laundry Egg is a complete replacement for plastic detergent bottles. This means you can avoid buying around 40 plastic detergent and fabric softener bottles each year as it is refillable with Ecoegg Laundry Egg Refill Pellets!
Be part of the change and help our planet combat plastic pollution today!
For more information, head to  www.ecoeggmy.com  to find out more!
No Plastic July, also known as Plastic Free July, is a global movement against plastic pollution that educates and empowers millions of people to reduce their plastic waste. With single-use plastic products becoming essential to everyday life, plastic consumption has quadrupled over the past three decades and we now produce around 400 million tonnes of plastic waste every year. Not only does it pollute the environment, plastic pollution also has further consequences on our health, economy and society. 
To help Malaysians reduce plastic dependence in their daily routine, Lush Malaysia has launched their yearly #NakedSwapChallenge campaign to showcase their packaging-free cosmetics. From shampoo bars and pressed conditioner to biodegradable cleansing pads and facial oils, the Lush Naked concept has been around since 2018 as an eco-friendly alternative to plastic. It encourages customers to shop more sustainably by offering value, convenience and safety.
How does Lush Naked work?
Lush Naked products contain self-preserving chemicals or do not contain water to prevent the growth of bacteria, yeast and mould. Similar to a green grocer, all of the produce is prepared fresh and does not remain on shelves for a long period of time. The Naked range can only be purchased in-store as the warm Malaysian weather can cause damage during delivery.
Now, are you ready to take on the #NakedSwapChallenge? By choosing plastic-free personal care products, which is a major source of plastic waste, you can do your part to help reduce unnecessary plastic waste from packaging. Here are 7 Lush product swaps for No Plastic July (and beyond!) that our editor, Aida Azrin, has tried and tested:
Skin Care
7 To 3 Cleansing Pad
Biodegradable cleansing pad
How to use: Splash your face with water and start exfoliating with the coarser side – dampen a corner and glide it over your wet face and neck area. Work the light cleansing cream into your skin and then rinse clean.
How it felt: "As the first step of double cleansing, it did a good job of gently yet deeply cleansing my skin to remove makeup, dirt and oil. My face felt soft and moisturised!"
How to store: Store the cleansing pad away from water – let it air dry and be kept on a soap dish that allows for drainage.
Calming calamine soap 
How to use: Lather the soap in your hands, massage over wet skin and rinse off.
How it felt: "I have sensitive combination skin, so this helped soothe and balance it out. My skin didn't end up feeling dry and tight, and the calming scent added to the pleasurable experience. "
How to store: Keep the soap in a soap dish that allows for drainage.
Light Touch Facial Oil
Lightly tone and moisturise
How to use: Glide the bar over your skin or warm up the oil in your palms before applying.
How it felt: "For a facial oil, it was lightweight and did not leave my skin feeling greasy. It was easy to apply and glided on smoothly! "
How to store: Store in a cool, dry area or the fridge to prevent it from melting.
Body
Tingly mint and eucalyptus
How to use: Wet your hands, lather up and rinse.
How it felt: "The refreshing blend of peppermint and eucalyptus oils helped wake me up in the morning and cooldown in the evening."
How to store: Keep the soap dry and on a soap dish that allows for drainage.
Hair Care
Keep a clear, calm head
How to use: Lather directly onto wet hair or wet hands, massage into scalp and rinse.
How it felt: "As someone with dandruff, it helped soothe my scalp and didn't cause it to itch afterwards."
How to store: Store it somewhere dry and draining between uses.
The Golden Cap Pressed Conditioner
For stout strands
How to use: Hold the conditioner bar under warm water, work it between your hands and massage the creamy consistency on the mid-lengths and ends of your hair, then rinse.
How it felt: "I love the vanilla scent and it gave my hair a soft, smooth, shiny finish."
How to store: Keep it somewhere dry and draining between uses.
Feet
Pumice Power Foot Soap
Heal your soles
How to use: Scrub your feet and then rinse clean.
How it felt: "A good scrub without being too rough, the pumice left my feet feeling soft and moisturised."
How to store: Between uses, store it somewhere dry and draining between.
Explore more products from the Naked Range on Lush's website.
How to achieve a healthy mindset
Sometimes the weight of life becomes destructive to our mental health. Our minds get foggy from the overwhelming information – making it difficult to find stillness and serenity. Hence, it's important to unwind and let go.
Studies have proven meditation as an effective method to improve mental health issues as it encourages relaxation and leads to mental relief.
But what is meditation, really?
When it comes to taking care of the body, mentally and physically, yoga and meditation go hand in hand. A branch of yoga, meditation, is the practice of achieving tranquillity and mindfulness as well as perspective, and even extends into our daily lives.
If you want to practise being mindful, you should direct your attention to the now, rather than dwelling on the past or even the future. Technically, being "in the moment" becomes an integral feature when it comes to meditation.
As serious as it may appear, meditation is not nearly as intimidating as it is thought out to be. At the end of the day, it all comes down to having a healthy mindset and here's why:
Importance Of A Healthy Mindset
With a healthy outlook:
Your worries will not appear larger than they are – instead, they seem more manageable.
Your focus will be on searching for solutions and avoiding ones that add to your mental tension.
You can find ways to grow beyond your thoughts and / or simply treat them as passing states before they become overbearing.
You can remove the overwhelm that comes from dealing with uncertainty by setting clear priorities and goals.
Coming full circle, here are some mental health benefits that meditation has to offer:
Promotes Better Sleep Quality 
When you regularly incorporate meditation into your routine, its benefits continue even when you're done meditating. It helps your body relax and release tension. As you train your mind to focus on every deep breath, the stream of jumbled thoughts simply floats away.
Relieves Stress 
At times, living stress-free seems out of reach, but meditation can clear your mind from information buildup. When you meditate, it gives clarity, allowing you to gain new perspectives on stressful situations. What once was a stress-provoking situation, is now just another thing to pass.
Regulates Negative Emotions
Meditation gives you a moment to be more mindful of your emotions. Instead of ruminating, it distracts you from excessive focus on intrusive thoughts. It makes you more attune to present experiences and flourish through even the inescapable hardships of life.
Reduces Anxiety
Spending even a few minutes to meditate can help you stay centred – leaving you in a state of relaxation and with a tranquil mind. When you feel anxious or tense, it can restore your peace and keep you calm throughout the day. Deep breathing encourages you to focus less on anxiety-provoking situations and more on the moment.
WIP On The Park is welcoming families to celebrate Father's Day browsing the wares of local vendors this Sunday, June 19. From 12pm to 9pm, a line-up of homegrown brands will be featuring their sustainability focused products at a very special Papa Day Pop-Up sale at Marc Residence.
Participating brands include Dia, which curates artisanal handmade gifts and fashion products, Unplug, the ultimate online eco shop in Malaysia, Kualesa's sustainable bamboo lyocell apparel, and Haus of Rami, the sustainable 100% hemp shirtmaker.
The first 100 visitors to make vendor purchases will enjoy a 10% discount on à la carte orders at WIP On The Park. Patrons to WIP On The Park will also enjoy discounts and promotions by pop-up vendors. Finally, Mister Rodrigo and Roshan from Laksa Records will be serving up fresh beats throughout the event.
To stay up to date on this and other exciting events, visit WIP On The Park's Facebook page at: https://www.facebook.com/wiponthepark
Sunway Healthcare Group in collaboration with the National Blood Bank (Pusat Darah Negara; PDN) is organizing a Blood Donation Drive at three of its facilities in the Klang Valley this June. This is the first such initiative being organised at the group level in conjunction with World Blood Donor Day which is commemorated on 14 June 2022.
'Donating blood is an act of solidarity. Join the effort and save lives' is the theme for this year's World Blood Donor Day and rightly so – blood is essential to help patients survive surgeries, selected treatments, chronic illnesses, and traumatic injuries. It is estimated that one pint of blood can save up to three lives.
In 2021, only 2.0% of the Malaysian population donated blood. However, our aim is to achieve 3.5-4.0% rate of Malaysian population as blood donors, to attain state of self-sufficiency, so that we are able to supply blood and its therapeutic products as treatment for our patients without having to depend on blood sources from other countries. Therefore, we need more people to come forward to contribute to the society. We appreciate and applaud Sunway Healthcare Group for organising this wide scale donation drive at their facilities to promote blood donation awareness while increasing blood supply for the nation," said Dr Thane Moze A/P Darumalinggam, Ketua Seksyen Pengurusan Penderma Bahagian Perolehan Darah of National Blood Bank.
"At Sunway Healthcare Group, we are cognizant of the challenges faced by the National Blood Bank and understand the importance of blood donation to maintain a steady supply for use by patients, especially during emergency situations. Hence, we want to play our part as responsible corporate citizens through this five-day blood donation drive. We hope this initiative will spur more Malaysians to start and continue donating blood on a regular basis and view blood donation as an act to save lives," said Dato' Lau Beng Long, Managing Director of Sunway Healthcare Group.
To facilitate participation from as many people as possible, the blood donation drive will be held across all Sunway facilities in the Klang Valley during the week of 13 June 2022:
Sunway TCM (Traditional & Complementary Medicine) Centre @ Sunway Geo (13-14 June)
Sunway Medical Centre Velocity, KL (15-16 June)
Sunway Medical Centre, Sunway City (16-17 June)
Those who fit the criteria below are encouraged to join the blood donation drive:
Age between 17-65 years old.
Weigh 45kg and above.
Have no chronic medical illness.
Have not consumed alcohol 24 hours prior to donation.
Not fasting, pregnant, menstruating, or breastfeeding.
No multiple sexual partners.
Had more than five hours of sleep the night before, a good breakfast or lunch and drink plenty of water.
Wear loose-fitting clothes with sleeves that can be raised above the elbow.
Allocate some rest time after donation to ensure there are no signs of dizziness, nausea, or pallor before leaving.
Those who are interested to donate are required to register as no walk-ins are allowed due to safety reasons.
For further information, please contact Ms Dharshini from Sunway Healthcare Group at dharshinis@sunway.com.my
A digital-first subscription-based solution for employees
FEV3R, a healthtech company that provides affordable e-patient services through a healthcare-as-a-service platform, has been launched today with a long-term aspiration to transform the landscape of personal health in Malaysia.
As an integrated healthcare service utilizing a mobile application to provide access to doctors anytime, anywhere, FEV3R is set to significantly reduce the cost of primary care for corporates and consumers, based on an affordable subscription model, with easy access to patient health data.
Its Chief Executive Officer, Adlan Hercus, said, "In this new environment where we have been learning to live and work through a pandemic, and now transitioning to an endemic phase, the conversation around healthcare has never been so important. Despite the increased interest in personal health, it remains a topic that would only come to mind when someone is unwell. While getting more people to care about their general health and wellbeing is important, what's equally crucial is empowering them to do so. Understanding the challenges of primary care during a pandemic, FEV3R has been working towards injecting change to the traditional primary care doctor-patient relationship to facilitate a higher degree of health innovation."
Employing technological advancements, FEV3R is set to support doctors with instant access to a patient's health data which will enable better diagnosis. These tools are geared towards helping doctors improve their diagnosis with the help of AI technology. This, in turn, reduces a lot of the legwork, so that doctors can focus on patients. FEV3R employs world-class technology that adapts and supports individual needs and preferences, while at the same time prioritizing the security of confidential personal data.
"Our doctors are all certified and registered with the Ministry of Health which means they can provide professional consultation with ease of mind for our clients and their employees. We have also adopted stringent data processes to ensure all patients' medical data are kept secure and private," Adlan added.
"Digital healthcare is here to improve our approach to delivering primary healthcare. Addressing the concerns of patients by being more accessible and affordable, digital healthcare also ensures higher efficiency levels for doctors. It is no longer business as usual for us, but rather providing better diagnosis, prognosis and referrals, as demanded by patients," said Medical Director FEV3R, Dr Sashidharan Janisein.
Affordability is also one of the key aspects of the FEV3R platform. With a simple subscription model, employers can expect to reduce up to 80% of employees' healthcare costs with our subscription of RM288 per employee annually. Additionally, the platform runs on a totally cashless model providing further convenience for patients.
Adlan further said, "FEV3R's subscription model can translate to savings for companies while still providing employees with the best healthcare they deserve. The savings could be used to fund internal engagements and other employee activities."
Currently focused on employees, FEV3R has a network of 120 clinics (own and partner) with more than 250 doctors on board. FEV3R is also equipped to dispense medication and conduct laboratory tests, while our doctors can provide referrals to the best specialists for more complex cases.
For more details on FEV3R, please visit https://www.fev3r.com/.
How to deal with the next-day-nerves
We all need to let loose once in a while, but sometimes these uplifting nights end quite the opposite – with a hangover. Hangovers differ from person to person, but they usually involve a headache, nausea, tiredness and, sometimes, anxiety. Have you ever experienced hangover-induced anxiety?
Also known as hangxiety, this noticeable increase in anxiety occurs the day after heavy drinking. It will have you regretting the night before and worrying about what you might have said or done. You could feel more nervous while waiting for your friends to recover from their own hangovers and fill you in on what happened. 
Why does it happen?
There isn't a single cause for hangover-induced anxiety, but those who experience anxiety in general may be more susceptible to it. These negative feelings during a hangover could also stem from the physical symptoms of a hangover, alcohol withdrawal, emotional withdrawal, medication use, alcohol intolerance or guilt from drinking.
How to cope with it
There is no quick cure for hangovers, but you can ease the discomfort with self-care. Tend to your physical needs first with good hydration, gut-healing food, and more sleep. To help reduce your anxiety, explore calming techniques such as deep breathing, meditating and practising mindfulness. If your hangxiety doesn't go away within 24 hours, or you feel the need to drink more alcohol to deal with it, it could be a sign of something more serious and you should consider seeking professional help.
How to avoid it
Set some boundaries for yourself on your next night out, but if you still don't trust yourself – ask a friend to help you stay within your limits. Drink slowly and in moderation with water breaks in between each drink. You should also plan ahead to make sure you don't drink on an empty stomach and are able to get enough sleep to recover from the next time you drink.
Schedule an appointment with an optometrist to keep your eyes in good condition
As we slowly regain normalcy in our day-to-day activities during this transition to endemicity, and especially after having our schedules disrupted due to the Movement Control Order that was implemented nationwide, Malaysians are now returning to routine health check-ups to ensure optimum health.
Most individuals are concerned about the health of their heart, lungs, and kidneys. However, after more than two years of adjusting our routines to work and study from home, socialising and shopping online, we ought to realise that staring at a screen for hours at a time can take a toll on our sight and this is why it's important to prioritise eye health.
Similar to heart problems, lung disease and mental health conditions, our eyes are also at risk of suffering from serious eye conditions such as cataract, glaucoma, diabetic retinopathy, age-related macular degeneration, and other types of vision impairments. This is why eye exams should be done regularly to ensure our vision stays healthy. According to research conducted by the National Eye Survey Malaysia, 15,000 individuals were examined for blindness in 2018, and 58.6% of them were diagnosed with untreated cataracts that could have been prevented if they were detected earlier (Chew et al., 2018, 6).
Additional research support from the National Eye Census in 2014 by the Department of Statistic Malaysia identified that 413,000 Malaysians aged 50 and above have been recorded to have some type of visual impairment and 113,000 of them were permanently blind with 43,000 cases caused by severe cataracts which could have been prevented by early eye examination.
In this instance, it is strongly advised that adults aged 18 and above should undergo consultations with an optometrist once every two years for a comprehensive eye examination (Farid, 2021). "Most eye-related diseases are also silent killers and will be untreatable if we don't act now. Generally, adults who may not have any vision-related issues should see an optometrist at least once every two years to upkeep vision health. However, since our screen time has drastically increased due to the pandemic and in addition to the changes in our lifestyle, we need to reconsider and prioritise our eye condition with a professional eye examination as often as once a year," said Yoyo Foong, an optometrist from Malaysia's leading optical retailer MOG Boutique.
If you are already a wearer of prescription glasses or contact lenses, you will need to schedule an eye examination to replace your vision aid at least once every two years. That said, for those who are currently not using any vision aid, you may want to get a head start on eye health by scheduling an eye health assessment and comprehensive vision test with your local optometrist. The eye examination evaluates different aspects of your vision or eye health and helps to detect eye problems at their earliest stage which is when they're most treatable.
So how often should you get your eyes checked?
Several factors can determine how often you need an eye examination, including your age, contributing health condition(s) and family history of eye diseases. Below is a general guideline for Malaysians to follow based on their age group to determine how often they should visit their optometrist.
Eye Examination for Children
Visual development is rapid during the first six months of a child's life and continues through the first decade. From as early as three months old, your child can undergo a thorough eye examination to make sure their vision is developing properly and to reveal any evidence of potential visual impairment that could be treated earlier. Coming into the age of three to five years, the children can then be examined by a paediatrician optometrist who can further identify complications or diseases to the children's vision (Yen, 2020).
Additionally, eye examination for children is not only to detect or prevent eye diseases from developing but to also foster their brain-vision coordination. Similar to walking or talking, vision development is a learned skill that helps in accomplishing daily tasks ranging from reading to catching and throwing a ball. However, if a child's vision is underdeveloped, it could seriously hinder their learning abilities.
Care for your eyes from a young age for optimum performance in your day-to-day activities.
Eye Care is our Responsibility
Many people will not notice any signs or symptoms in the early stages of eye disease and they are mostly unaware that age is an influencing factor in eye condition and vision wellness. Age-related diseases such as age-related macular degeneration (AMD) may start to progress earlier during your lifespan if it is not detected or treated, hence the need to pay attention to eye health and take notice of any minor eye discomfort or vision changes, such as:
Having trouble distinguishing colours;
Needing time to adjust to changing levels of light;
Losing the ability to see up-
Should you experience these warning signs, make an appointment for a thorough eye exam to receive appropriate treatment and rule out any serious conditions.
Get an eye exam the moment you experience minor eye discomfort or vision changes 
Common Problems of Aging Eyes
There are four known eye conditions that will start to rapidly develop as you enter the golden ages of 50 – 65 years old: AMD, diabetic retinopathy, cataracts and glaucoma. Those in this age group are advised to undergo regular check-ups with their optometrist every year to maintain good eye condition.
With a high risk of developing eye-related diseases at an older age, individuals with a family history or health condition that may potentially contribute to the above-mentioned eye diseases will need to begin their precautionary steps today. If you are not looking to go for your eye check-ups in a hospital or clinic, you may want to consider a thorough eye and vision check-up with MOG, the leading optical retailer in our country. MOG's 6-in-1 Vision Experience revolves around a professional eye care routine which includes hospital-grade Eye Health Assessment that can address potential eye diseases through retina assessment that can detect any onset of Glaucoma, Diabetic Retinopathy and AMD as well as corneal mapping and corneal assessment for a detailed image of your eyeballs, which can reassure you of your current eye condition, and also detect the risk of cataract while sharing ways in which you can improve overall eye health.
State of the art eye health screening facilities at MOG Eyewear
Eye health is important for the overall wellness of our body and it should not be neglected. While the three Os (optometrists, ophthalmologists and opticians) can assist you in detecting and preventing eye diseases, the ultimate responsibility lies with you to ensure your eyes are in good health.
Caring for your eyes is not as complicated as it may seem and these are a few things you can do to protect your vision:
Eat a healthy and balanced diet
Get regular exercises
Wear sunglasses to protect from UVA/UVB radiation
Avoid smoking
Only buy contact lenses from reliable optical stores
Give your eyes a rest (20-20-20 rule: For every 20 minutes spent looking at a screen, look at something 20 feet away for 20 seconds)
You are responsible for your eye health
Eye health is as important as the health of other organs in your body. Just by checking your eyes, an optometrist is able to detect eye diseases as well as potential health risks and other underlying diseases such as cancer, diabetes, high blood pressure, to name a few. Considering the benefits of eye examination to your well-being, it is best to include it in your annual health check-ups!
The Ministry of Communication and Multimedia Malaysia (K- KOMM) through MyCreative Ventures Sdn. Bhd. (MyCV) presents RIUH Raya Souk this 23rd and 24th April at Sentul Depot from 4pm till 12am, in conjunction with the month of Ramadan.
While we begin the transition to the endemic phase of life as we manage Covid-19, MyCV would like to invite the whole Keluarga Malaysia to celebrate our local creative talents as RIUH Raya Souk featuring 109 homegrown retail brands offering everything from apparel, accessories, Raya cakes and cookies, kids care, home decor and beauty offerings.
Get Raya ready with plenty of fashion favourites to choose from including Whimsigirl, Velvet Vanity, Machino and Nazifi Nasri as well as newcomers, Lathalia Jewellery, Harirose, Inisaya and Samora. Spruce up the home and decorate with plants from Kayan Tropika, bedsheets from Urban Edit. Co and homeware by Naren Home.
Satisfy your hunger pangs with the best of buka puasa food including classic Kelantanese fare by Gamelan, Johorean dishes by Kecur, Sataysfaction satay, Phil's Pizza, MyBurgerLab, Sausage Sizzle and beverages by Bo The Avocado, Brotani and TFKL among others. Indulge in Raya treats from SheBakes, Poppy Cherry Pop, That Last Bite and desserts by F.R. Copper and gelato by The Unusual Greens.
In conjunction with Autism Awareness Month, We & I Art x Anak Seni Exhibition will feature works by autistic artists alongside Community Art Jamming sessions and merchandise for sale to support the artists. NYAWA Organisation will also bring pieces from their Mahakarya exhibition and activities in support of their cause in conjunction with the upcoming Mental Health month.
Get crafty and create at the Mini Tiled Table Workshop by Self Supply and a Recycled Paper Quilling Workshop by Steampunk Arts x Minimolly – all in line with efforts to build awareness about creating recycled art by using sustainable materials and being eco- friendly.
Give 'Plant Mixology' a try with Eat, Shoot & Roots' drinks edition and sample flavours and tastes of different locally grown herbs. Plenty of fun activities for all the family will be taking place with Raya themed Arts & Crafts at the Kids Area.
A special collaboration this RIUH Raya Souk brings you enlightening workshops by the AirAsia Foundation where you can learn the art of real ketupat weaving with Dr Jarina Mohd Jani, learn how to grow ulam plants with REWILD Malaysia and savour the fascinating 'Taste of Kerabu' with Dr David Neo. Their retail arm, Destination Good will also be available at the retail area.
"RIUH's holding company, MyCreative Ventures (MyCreative) celebrates its tenth anniversary of supporting the Malaysian creative industry this month and we as a group are excited to mark it with the return to live events and provide the deserving brands, talents and community, a helping hand. Consistency and determination is the key to the future of the creative economy and we have a lot planned this year especially so with RIUH going from state to state in a nationwide tour" stated Marissa Wambeck, Head of RIUH.
RIUH is a curated creative platform that aims to enhance the creative ecosystem by connecting homegrown brands, creative entrepreneurs, creators and artists to the community.
Check out what RIUH has in store on www.riuh.com.my or head to the Instagram & Facebook page @riuhinthecity and get connected!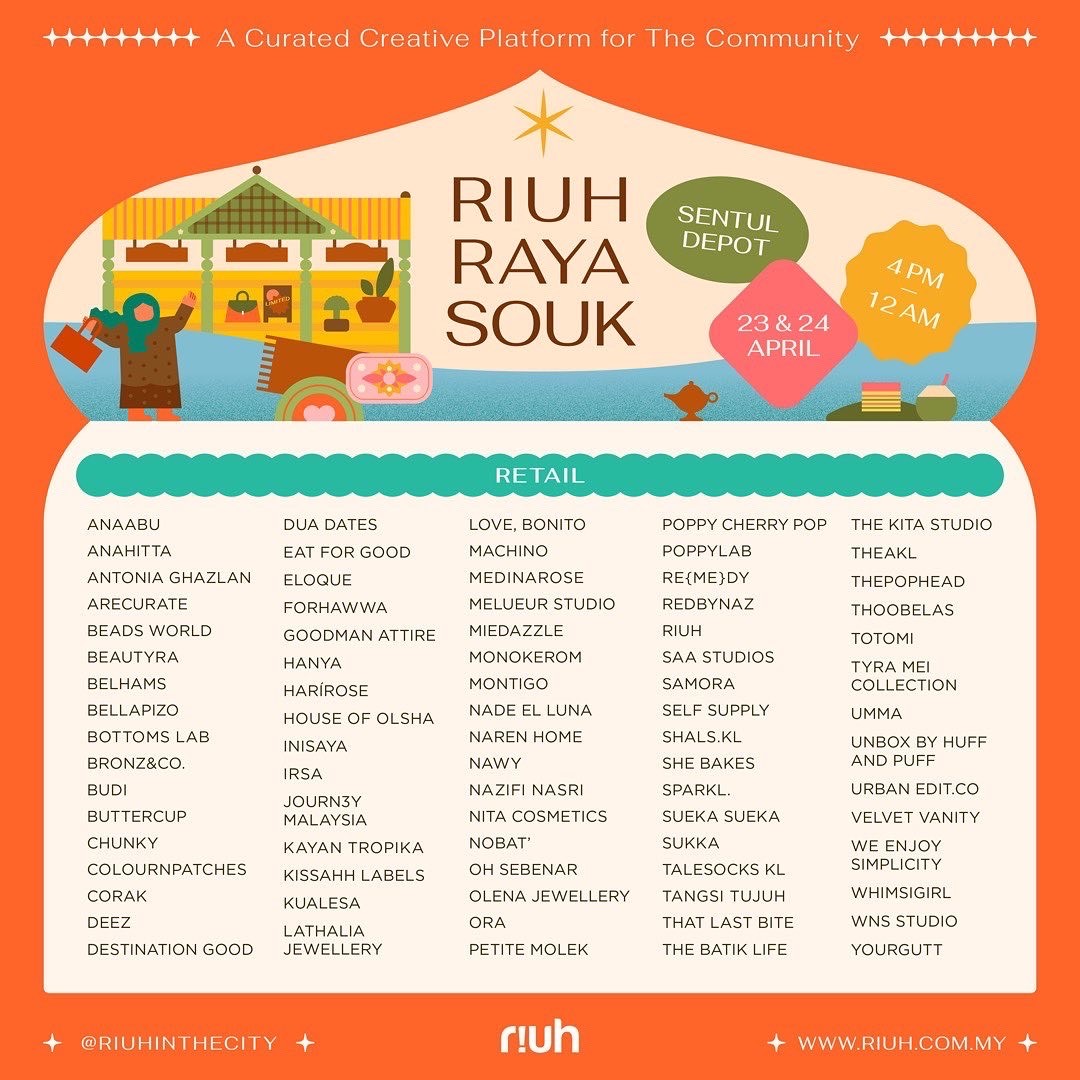 From text neck to pandemic posture, these bodily aches and pains of the modern era did not exist when conventional pillows were designed back in the 1970s. We may have more information on how to take care of our posture and health better, but today's fast-paced world has also made it easier for us to forget about our body's basic needs.
People have been cutting back on sleep in an attempt to increase efficiency; however, scientific studies and statistics show that prioritising sleep can help improve work performance. "The notion of 'work hard, play hard' has to be balanced with 'sleep well' too. Even billionaire, Elon Musk, has publicly sworn by sleep in attributing his success," says GIRAFthepillow Founder, Ken Leong.
Getting quality sleep sounds simple, but the wrong pillow will prevent you from falling asleep and affect your focus throughout the day. GIRAFthepillow is a Sleep Wellness Engineering startup that launched the 2022 GIRAF Advanced Composites Sleeping Pillow – an innovative pillow engineered specifically to help relieve the troubles of modern slouch-over-smartphone lifestyle.
We spoke to the founder, Ken Leong, about how the World's First Composites Technology Sleep Pillow delivers superior comfort and support.
What was your journey towards starting GIRAFthepillow with your team?
"An Ex-Singapore MOE ASEAN scholar, I'm a trained engineer with an MEng Mechanical Engineering (Honours) degree from the University of Nottingham, UK. 
"You sleep when I study, you sleep when I sleep", said my boarding school roommate during my scholarship days. From a young age, I realised how important sleep has been to me and more specifically to my success. So when I found out that my pillow was giving me sleepless nights rolling in bed and headaches, the urge was to improve it. None of the ones being sold did the job, so the only choice was to make a new one myself. I was very lucky to have been under one of the top experts in composites in the UK during university, and had always been fascinated by the possibilities. As a polymath, it led me to try applying it to the pillow. Over the years, more people came on board to make this a team effort. I met an American Posture Institute certified posture expert who helped tune the product. Later on, more people were brought in to scale. Efforts to commercialise GIRAFthepillow as a high performance sleep pillow targeting posture-recovery and full R.E.M sleep cycle recuperation started in 2020, just before the pandemic hit. In total, it's a journey of more than 17 years."
What were the industry gaps you noticed and how do you aim to make a better solution available to help others facing the same issues?
"First of all, the concept of a pillow has not changed for more than 2000 years since the Romans invented our modern pillow, it's still the same practice of stuffing a pile of soft material into a bag and calling it a pillow. They all have limited material capabilities, which is restricted by the single block of material stuffed into it, be it feather, cotton, memory foam, etc. So when the opportunity came to reinvent the pillow from scratch, we ditched that conventional idea and used all the modern engineering tools and technology available to us to innovate."
How did you innovate GIRAFthepillow to be able to provide users with the best possible experience with sleep posture? How does this affect full sleep cycles for both mental and physical recuperation?
"First, we had to look at what the person does when they sleep and what is the natural neutral posture when lying down. After that, we use F1 Racing technology to find the fit for the human body, and use exact calculations to produce the shape of the pillow such that the user is able to attain the desired sleep posture. Sleep is divided into physical and physical recuperation, whilst your physical body is recuperating when you relax and stop moving, your mind requires the full sleep cycle to get the recuperation it needs. Research has shown that Rapid Eye Movement (REM) sleep works as a detox to flush out the toxins in the brain. REM is the final stage in a full sleep cycle. We aim to give the user an uninterrupted sleep so that they are able to achieve this through two ways: 
To use scientific ways to relax, we are able to manipulate composites material to recreate a cuddle, which works as Deep Touch Pressure (DTP), that is scientifically shown to produce a calming and relaxing effect. 

We also engineer the pillow to seamlessly support the user in different sleeping positions as they move around in bed, to avoid having a jolt that wakes them up which also stops them from achieving the full sleep cycle."
What was the technology behind creating and designing the GIRAFthepillow? What was the inspiration behind the design?
"The main two areas involved are Advanced Composites Material and Human Factors Ergonomics Engineering. A lot of it comes from Automotive areas, especially F1 racing where they are testing the limits and hence use the best solutions. But also areas such as airline business class cabins where they try to make the passenger as comfortable as they can on long hour journeys. If you think about it, sleep is quite similar, long hours and all. As a polymath, I enjoy connecting the dots and using unconventional ideas."
How long did you spend just on the research of materials and understanding users' pain points? Why is this important?
"The overall journey was more than 17 years. Getting to know the root cause of problems is important in engineering, as well as continuous improvement. Actually a lot of it is just logic – you can't solve a problem if you don't even know what it is, correct? So it's a process of trial and error and iteration, as per many great inventions out there such as Dyson."
For those who are hesitant about spending money on a pillow, why is it an important investment?
"Let's break down the numbers, if you spread the cost over 365 days (1 year), it's only RM1+ a day, which is less than a cup of coffee. And imagine if you get better sleep – you have higher productivity, you get a pay rise, you perform better and live a better life. The benefits far outweigh the costs. It's an affordable way to boost your life. You'd probably lose RM399 to medical bills anyway if you don't sleep properly." 
How are you encouraging consumers to purchase pillows online rather than a physical store?
"Whilst the pandemic has affected our operations, the shift in purchasing behaviour has also helped us in going the online route. People are now more willing to buy things online. And we communicate directly with our customers and that provides value to them and us. Many times, even when buying in a physical store, you're dealing with a salesperson who is more interested in taking your cash, and you may not get the proper answer to your questions if you get it at all. Most likely you'll hear what they think you want to hear, as long as you part with your cash. Our products come with Free Delivery, a 2 year warranty and also a Lease to Own option for easy affordability. We make it as smooth and convenient as possible for the customer." 
How does GIRAFthepillow take into consideration the different preferences and comfort of consumers?
"In designing GIRAFthepillow, we provide an experience that adheres to what the general population perceives as comfort. If you like sleeping on a piece of wood, then perhaps that would be an extreme that we are not able to cater for, but in general everyone is happy.
It's like saying I like lamb more than chicken or fish, but what if there is an engineered meat that is tasty for the majority but doesn't taste like any of the above. We are that engineered meat.
Granted some people get a higher level of satisfaction compared to others, it is still an above average experience for most. We also have a special bespoke custom fit service, which is a very time consuming process, and is only available by special appointment as a premium service to current users who desire an even better experience from their sleep."
What were the challenges and successes you faced along the way since starting this entrepreneurial endeavour?
"There have been attempts to copy what we do, but I see it as a compliment that we are doing something right. As they say, imitation is the sincerest form of flattery.
The proudest success has to be the overwhelming feedback from our users on how we actually changed their lives for the better, and how surprised they were that there is actually a great product such as ours out there. This fuels us to do better and help more people out there."
 What is the future of GIRAFthepillow and what users can look forward to in the next 1-2 years?
"We look to continue doing great things by using technology to disrupt the sleep industry and see the future of sleep as an integral part of the healthtech space. Also many eager customers are now waiting for our product to be launched into their home country and we aim to make that a reality."
You can purchase the 2022 GIRAF Advanced Composites Sleeping Pillow on their website.