Now that we're almost a month into 2022, how's your wellness streak going? Are you pressing pause or still going strong? Wherever you are in your health journey, dietary supplements can help support your wellbeing goals.
More than half of Malaysians take health supplements regularly. The percentage continues to rise during the pandemic as people prioritise their immune health. If you've popped into a pharmacy and not known which capsule to pick from the rows of dietary supplements, MyVitaLab has simplified the process. Their combinations are carefully curated for your everyday needs, packed in portable daily portions and delivered straight to your doorstop!
Read on as MyVitaLab gives the low down on what you need to know about dietary supplements and how they can help you:
What Are Supplements? 
Dietary supplements are basically to support our overall daily health and fill in the nutrition gaps that our body lacks.
Why Should We Take Supplements?
Getting our nutrition from food is important, but our body only absorbs around 40% of the nutrients. For example, if you want Vitamin C from oranges, you might need to consume 2 kilograms of the fruit. However, it does not mean you will get a minimum of 1000mg worth of Vitamin C because your body only absorbs around 40% from the whole food. Basically, supplements are important because they act as support and fill in the gaps of the nutrition that we need. Some supplements are better combined to reach its maximum effectivity, hence why we offer the pre-packed packets.
The main reason why we came out with pre-packed supplements first is because we want to educate customers on the basic needs of supplements and show them that it is not a hassle to take supplements anymore. With MyVitalab, supplements are made simple.
Supplements can enhance our health in different ways. For example, calcium supports bone health, while vitamin D helps the body to absorb the calcium. Vitamin C and E are antioxidants, which are molecules that prevent cell damage and help maintain health (by slowing down the aging process).
Also, with the pandemic that we are facing, we should not neglect the nutrients and support that our body needs in order for us to stay healthy and strong.
How Do We Know What Supplements To Take?
One way is to look carefully at the nutritional value of all the foods in your diet and see how close you are to the recommended amount.
You can also look out for any symptoms of nutrient deficiency. For example, hair loss, bone or joint pain, serious tiredness, vision changes, wounds that heal slowly, irregular heartbeat etc.
What Are The Benefits Of Supplements?
There are many benefits of taking dietary supplements. Different types of dietary supplements give different benefits. Generally, there are three main benefits that people take supplements for, which are:
To provide immune system support
To maintain general health
To support mental and sports-related performance
Two main concerns that people have nowadays are immunity and body repair. With the pandemic hitting us, immunity is currently our main priority. Therefore, our Vitamunity box combines supplements that are best for supporting your immune system. It is packed with antioxidants that help to repair damaged cells too. Vitarepair helps with body recovery and a few of the many benefits it has is that it helps to reduce the inflammation inside the body, ease joint pains, muscle soreness, brain health and glowing skin.
What Are The Risks Of Supplements?
Too much of anything is never good for our body, and the same goes for taking supplements. For instance, if our body has an excessive amount of iron and we still consume iron supplements, it might have a bad effect on our body. Therefore, it is important to know which supplements to take and which is the best combination.
Putting ourselves in the shoes of our customers who go to pharmacies, walk down the aisle and stare at the product space, it might be an overwhelming experience to decide which supplements to take and which is good for our bodies. With this in mind, we decided to curate the pre-packed supplements and do the guessworks for them. They don't have to wonder which supplements to take, which combination is best or which will meet their needs because our pre-packed boxes will be the solution for them.
How MyVitaLab Can Help
At MyVitalab, we are all about making supplements simple. We curate the best supplements from around the world, so you don't have to do it yourself or even worry about the quality. We studied the science on how to pair them, so you can skip the homework and guesswork. We pack them in portable daily portions, so you never have to carry and open multiple bottles, or worse, miss your supplement intake. We deliver them straight to your doorstep, so you never run out of supplies. We make supplements simple, so you can take it easy.
Our team of professionals are both our inhouse team and the team from the brands that we partner with. We work closely with our brand partners because we want to ensure that our pre-packed supplements are curated carefully with the best combination for our customers.
Currently we are still at our introduction promotion price, but rest assured the real price is still going to be affordable for everyone. MyVitalab might be affordable but we never compromise on the quality of our products. This is because we want to encourage people to take supplements and show them that it doesn't have to burn a hole in their pockets. Our supplements are sourced worldwide and each of them are already registered with the Malaysia Health Ministry (each have their own MAL number). In fact, the supplements that we use are also from the brands that you can find in the market, but we choose the best based on ingredients and reaction to the body. Hence why we have brands that we partner / work closely with.
You can shop MyVitaLab's supplements on their website and follow them on social media for new pre-packed releases.
Stress is inevitable, something close to impossible to avoid. It is difficult to prevent, however, what we do have control over are tracking our stress levels and how we manage them.
Monitoring our stress levels can be a huge lifesaver. It can help us to have more control over stressful situations and can be a helpful guide on knowing when it is time to step back, light that candle, and de-stress. 
Have you ever looked back at a week or month that had just gone by and only realized later that you were incredibly stressed out? It's possible; that we sometimes don't even pick up on our bodies telling us that something is wrong. There are a number of indicators such as: headaches, changes in heart rate, digestive problems, changes in appetite, and more. It's definitely a skill that takes practice: feeling our bodies' responses and listening to them. 
Besides our bodies being our own inner trackers, there are other ways we can monitor our stress levels: through technology! 
Some wearable technology you can invest in: 
Smartwatches
Samsung Smartwatches – Samsung Smartwatches also come with the Samsung Health App just like with their smartphones. They allow you to monitor your heart rate; and when feeling stressed, provide a guided deep breathing exercise to help you relax.
Fitbit – The Stress Management Feature on the Fitbit Sense detects stress responses during guided meditation and breathing exercises.
Garmin –

Garmin watches also allow users to monitor their stress levels by determining their current level of stress based on their heart rate.
Other wearable technology
Amazon Halo Band – The Amazon Halo Band is a screen-free wristband that can track physical activity, sleeping patterns, and stress levels. Just connect it to your smartphone to have access to records the wristband has detected.
Muse Headband – A wearable brain sensing headband that measures brain activity and stress levels.
But if wearing these aren't your kinda thing, here are some apps you can check out: 
Available on iOS & Google Play 
An app that allows users to customize goals, journal, follow guided meditations, and tracks sleep and nutrition. 
Stress Scan
Available on iOS & Google Play 
This app helps users measure stress levels by placing their thumb over the camera which Stress Scan then analyzes changes in your heart rate.
Available on iOS & Google Play
Personal Zen's features include musical therapy, journaling, breathing exercises, and stress relieving games.
When a mother is expecting a baby, the health of both is of utmost priority – however there are situations that can put both at risk. This includes a lesser-known condition such as Preeclampsia, and its even rarer progression, Eclampsia.
As shared by Sunway Medical Centre Velocity's (SMCV) Consultant Obstetrician and Gynaecologist Dr Nor Elyana Noordin, preeclampsia is a pregnancy complication characterised by high blood pressure and signs of damage to another organ system, most often the kidneys where it leaks protein (proteinuria). This is caused by the abnormal formation of blood vessels in the placenta and the mother's blood vessels – what causes the abnormalities, however, remains unknown.
"Eclampsia is the onset of fits or seizures in pregnant women and is a severe complication of preeclampsia. Preeclampsia mostly occurs during the antenatal period, more so in the third trimester. 80% of eclamptic fits occur during the delivery process, or within the first 48 hours following delivery. Statistically speaking, the prevalence of preeclampsia and eclampsia is 4.6% and 0.3% respectively," Dr Elyana elaborates.
In Malaysia, eclampsia made up 6% of maternal deaths in 2020, taking the fourth spot along with ectopic pregnancy, and ranked after obstetric embolism, postpartum haemorrhage and gestational hypertension with significant proteinuria.
Warning signs of preeclampsia
According to Dr Elyana, eclampsia can be prevented with the proper treatments administered at the right time, and regular check-ups since there are signs and clinical parameters that can help predict severe preeclampsia.
"Pregnant ladies with preeclampsia have to be monitored closely through regular blood pressure monitoring, serial blood investigations and urine protein tests to ensure the wellbeing of both mother and baby. If the blood pressure is uncontrolled even with optimal medications, or there are abnormal blood parameters, the baby has to be delivered so that preeclampsia does not worsen and progress to eclampsia," she says.
Although preeclampsia sometimes develops without any symptoms, incidences of high blood pressure should be picked up during antenatal check-ups. Other signs that may present itself during severe preeclampsia are severe headaches, vision problems, pain below the ribs, severe nausea and vomiting, sudden weight gain and swelling (oedema) in the face and hands.
Who is more susceptible to developing preeclampsia?
Having diabetes, high blood pressure or kidney disease before becoming pregnant can increase one's risk of developing preeclampsia, as well as having conditions such as lupus or antiphospholipid syndrome.
Other instances that can slightly increase the chances of preeclampsia include first time pregnancy, family history of the condition, being over 40 years old, having a 10-year gap from the last pregnancy, expecting multiple babies (twins or triplets) or a Body Mass Index (BMI) of 35 or over.
Dr Wong Yen Shi, Consultant Obstetrician and Gynaecologist from SMCV shares that there is a 15% chance of a woman developing preeclampsia in her second pregnancy if she experienced it in her first. She explains that there are lifestyle factors that can help reduce the chances of preeclampsia.
"It is important to ensure that the blood pressure is under control prior to embarking on a pregnancy journey for ladies with underlying hypertension. Aspirin is used to prevent or delay onset of preeclampsia. Exercising and well-balanced diet is important for general well-being but it does not prevent preeclampsia," she shares.
How is preeclampsia and eclampsia treated?
Dr Wong explains that the most effective treatment of preeclampsia would be delivery, but if it is pre-term, management of the condition includes antihypertensive medications, blood or urine tests and regular follow-ups to monitor both the mother and fetus' condition.
"If the pregnancy has reached 37 weeks or more, the delivery may be warranted via induction of labour or caesarean section. For mothers who have not reached 37 weeks but have developed the preeclampsia complications, they would need immediate delivery. Delivery of the fetus and placenta is the only definitive treatment of eclampsia. Other than that, magnesium sulphate is a type of drug that is also used to prevent and treat eclampsia," she says.
What are its effects on the baby's development?
With the condition originating from the placenta, preeclampsia may prevent the baby from obtaining sufficient blood supply – as a result, the baby may be smaller in size as it does not grow at a normal rate inside the womb, also known as fetal growth restriction.
"Preeclampsia and its complications increase the likelihood of preterm delivery. The complications that follow preterm deliveries may include cerebral palsy (irreversible movement disorder), learning disabilities, feeding or gut problems, as well as visual or hearing impairment," Dr Wong adds.
While every pregnancy and delivery for each mother is different, the best way to prevent complications from preeclampsia, and subsequently eclampsia is early diagnosis. Prenatal and post-natal care is key. Patients must go for consistent check-ups and share any new symptoms that may arise so that it can be managed quickly for a safe delivery.
Sunway Medical Centre Velocity is located at Lingkaran SV, Sunway Velocity. For enquiries, please contact +603 9772 9191 or email smcv-enquiry@sunway.com.my. For more information on Sunway Medical Centre Velocity, visit www.sunmedvelocity.com.my (Facebook: Sunway Medical Velocity).
The "Kebersihan Menstruasi Adalah Hak Wanita" (Menstrual Hygiene is a Woman's Right) movement launched in November 2021, calls for the support of the Rakyat, to contribute in a small yet powerful way to the campaign which runs until January 2022. The movement is a result of a synergy between KAO Laurier Malaysia, Yayasan Perintis Malaysia (MyPerintis) and the Ministry of Higher Education (MoHE) as a step forward in bridging the disparity gap in period poverty among young women in higher education institutions across Malaysia.
"We believe Malaysians view period poverty as a critical area of need and wish to be part of the solution. This campaign is inspired by KAO Laurier's Kirei lifestyle philosophy and our mission to make life beautiful for all. A Kirei lifestyle is full of compassion, demonstrated by the inclusivity and care we wish to extend to the B40 community in universities. It's why we do what is right, not what is easy. We put our innovation and imagination to the task of enriching lives by finding ways for people all over the world to live the Kirei lifestyle," explained Kao Laurier Malaysia Marketing Vice President, Tan Poh Ling.
"Above and beyond contributing to the needs of young women from the B40 community in higher education institutions, we look forward to amplify discussions around period poverty that will further inspire efforts to eradicate the issue in Malaysia. We hope the Rakyat will join us in this nationwide initiative, in which their regular monthly purchase of sanitary napkins can now be extended to help young Malaysians within the B40 community," Tan added.
The Ministry of Higher Education said, "Addressing period poverty is crucial in meeting the socio- economic needs of marginalised girls and women. This public-private partnership between KAO Laurier Malaysia, MyPerintis and Ministry of Higher Education is an example of all parties coming together, bringing value to the table, in order to address the challenge of period poverty. While the road towards addressing this multidimensional issue will be long, we believe a collective effort will see us progress towards sustainable solutions."
29-year old Sahirah, a Sales and Marketing Executive from Kuala Lumpur, and 31-year old Ket, a Financial Manager from Damansara, shared insights on the concerning issue of period poverty and their message for women in need.
"I am very concerned about the period poverty issue that is currently all over social media, but I believe that many are still unaware of the unfortunate situation, that girls are unable to access safe and hygienic-sanitary products due to financial constraints," Sahirah shared. "To all girls who are suffering, please know that it is okay to reach out to other people. In Malaysia, we have a lot of committed parties, NGO(s), for example, who are passionate about spearheading initiatives like this; you can always reach out to them via social media. You have to know that you are not alone."
"I am actually quite surprised to hear about the period poverty campaign; that there are women out there who are facing serious financial constraints – to the extent that they could not afford to purchase sanitary pads. Some even had to opt for alternatives, such as cloth, to solve the issue. Our responsibility is to find the solution to help them," said Ket. "Malaysians, including me, are always ready to help. So women in need should not be ashamed to ask for it," he added.
Laurier Night Safe Brand Ambassador, Sweet Qismina shared, "As a young woman myself, it breaks my heart knowing there are young women in Malaysia who are hindered from carrying out daily routines and living life to the fullest on account of not having access to feminine hygiene care necessities. Nevertheless, I'm encouraged that we, as Malaysians, can play an active role to help address period poverty in a small way. As the saying goes, great oaks from little acorns grow (sikit-sikit lama-lama jadi bukit). Together, our simple contribution can make a difference in the lives of young women in universities across Malaysia."
To learn more about joining the "Kebersihan Menstruasi Adalah Hak Wanita" movement, which runs from 15 November 2021 to 31 January 2022, follow @KaoLaurier on Facebook and @lauriermy on Instagram.
DIZO, the first brand under the realme TechLife ecosystem, today announced its venture into the Malaysian market with the launch of its two new electronic products – DIZO Watch 2 and DIZO Buds Z.
The global AIoT brand comes with proposition for the trendy and tech-savvy, targetting chiefly the fashionable youngsters, ages 15 to 28.  More than just being a technology brand, DIZO embarks on a philosophy and a journey that aims to empower everyone to enjoy their desired life, enhanced by Smart Tech Life. Pronounced as 'dee-zoe', the new brand aims to break the clutter of tech similarities and offer solutions that are aligned to the needs of every different consumer. Urging its consumers to "Be Different", DIZO offers the technology that complements individuality of a consumer, empowers them, and becomes an extension of their personalities.
Malaysia is a large and emerging market with increasing numbers of tech savvy purchasers in pursuit of smart tech lifestyle products. The brand aims to offer cutting-edge digital products suitable for modern living, starting with DIZO Watch 2 and DIZO Buds Z.  Other products are in the pipeline will be launched here in stages.
DIZO is celebrating its launch in Malaysia with its Super DIZO-Tech Days campaign at Shopee: DIZO Official Store from Jan 24 to 28, 2022 with a store-wide discounts of 70% on its products, starting from RM49.
DIZO products will be introduced soon to countries in Asia, Europe, North America, South America, Africa, etc. DIZO forecasted a turnover of RM30 million of sales for next year for the APAC region and intends to capture 30% of market share in Malaysia.
Built around the mission to offer Smart Tech Life for Every Different You, DIZO along with realme, is committed to bring the best of both the brands to its consumers. In fact, DIZO has unflinching support from realme around three key aspects – Industrial Design, Supply Chain and AIoT experience that works perfectly with realme Link.
DIZO's focus is to create a portfolio of an entire range of AIoT solutions that consumers can use in their daily lifestyle. And with that focus in mind, DIZO will enter into four major product categories, which are Smart Entertainment, Smart Home, Smart Care and Accessories for its consumers across the world.
DIZO has seamlessly and efficiently integrated the global supply chain with its local operational resources to meet the varied needs of its consumers. Also, the entire core team members come from global technology brands with stellar experience.
DIZO Watch 2 
Building up to its commitment of providing Smart TechLife along with premium and trendy solutions at competitive prices, DIZO Watch 2 is a smartwatch bring functionalities and features that complement the health and fitness regime of the users and cater to their everyday styling needs as well.
The DIZO Watch 2, with its largest screen (4.3 cm) in the hundred price range, comes in premium metal frame, exciting features and trendy colour options. There are 100+ stylish watch faces to customize to suit your mood of the day.
DIZO Buds Z
It's more a pair of ear phones. DIZO Buds Z boasts a classic Natural Light Design and amazing features. The latest stylish earbuds by DIZO come in three stunning colours – Onyx, Leaf and Pearl.
One of the lightest in the segment, each DIZO Buds Z earbud weighs only 3.7g. The ergonomic design with 3-ear tip sizes matches your ear and let you feel nothing but the music.
In response to one of the worst floods ever recorded in the nation's history, Malaysia's largest prescription pharmacy chain, Alpro Pharmacy, and the first telemedicine provider, DOC2US, have teamed up to raise awareness on flood-borne diseases as well as caution chronic illness patients affected by the flood on the danger in skipping their long-term medications.
"While the recovery processes are underway, water levels are still high in many places. As a community pharmacy, Alpro would like to highlight that poor sanitation and hygiene in flood areas could act as a catalyst for flood-borne diseases such as Leptospirosis, Cholera, and Dengue fever," said Ph. Lim En Ni, Alpro's Chief Pharmacist and Director of Engagement.
Leptospirosis is spread mainly by contact with water or soil contaminated by the urine of infected animals. Upon infection, the incubation period can take 2 to 10 days. Fever, chills, headache, muscle aches, vomiting, and diarrhoea are common symptoms, especially during the early phase of infection. At high-risk areas, one can minimize the risk of contracting leptospirosis by wearing boots, goggles and gloves when conducting post-flood cleaning.
Cholera is transmitted by eating food or drinking water that has been contaminated with the Vibrio Cholerae bacterium. It can cause severe watery diarrhoea, leading to dehydration and even death within hours if left untreated. To prevent Cholera infection, one can consume boiled water and thoroughly cooked food items.
Dengue is a viral infection caused by the dengue virus, commonly transmitted through the bite of Aedes aegypti mosquitoes. Dengue virus can lead to a severe flu-like illness, sometimes causing potentially lethal complications called severe dengue. Due to an increase in water pools around flooded areas, dengue cases might see an upsurge. While fogging helps prevent infections, it cannot kill the larvae of mosquitoes. Hence identification of stagnant water is essential.
"Keeping an eye out for general symptoms such as fever, headache, diarrhoea, muscle aches, and vomiting will help identify possible infections. In the case of any such symptoms, please visit the nearest healthcare centres immediately," Lim urged.
Understanding that natural disasters leave victims no time to collect their belongings, including long-term medications, Alpro and DOC2US pledged to help flood victims who need chronic medications under their Life-saving Medication Care Programme.
Alpro Pharmacy will provide a one-time chronic medication supply to communities affected by natural disasters for up to 7 days for free. Affected consumers can visit any of the 165 outlets of Alpro Pharmacy in Malaysia to speak to the pharmacists for more details. A police report copy of the flooding is required for verification purposes. Those who have lost their prescription can get their free consultation and e-prescription with DOC2US on the spot.
The Life-saving Medication Care Programme initiative is part of Alpro and DOC2US' long-standing commitment to providing healthcare support to the communities affected by natural disasters.
Dr Raymond Choy, DOC2US' Co-founder and CEO said "In times like this, it is paramount that flood survivors continue with their medications for chronic illnesses such as diabetes and hypertension. In addition to the flood-borne risk, straying from prescribed medications may put them at a higher risk of morbidity".
"Through our partnership with Alpro and our expertise in e-prescription and online consultation services, we are glad to be able to help by providing some relief to these victims for their predicament," added Dr Choy.
To learn more about the initiative, its terms and condition as well as the nearest Alpro Pharmacy, call Alpro Customer Care Support at 019-6129006. Alternatively, the public can also chat with a professional pharmacist via the e-pharmacy WhatsApp hotline at 019-7021923.
Join Amazin' Graze on a roaring journey of health and prosperity this New Year with their newly-launched and limited-edition CNY Nut Mix Gift Box. Amazin' Graze wishes for everyone to strive to #BeATiger that prospers and roars in the Year of the Tiger. This new gift box is launched in line with their mission to help you adopt the 'tiger spirit' with the gift of health so that you can prosper in wealth by putting your health first.
Light up your room with an abundance of healthy, delicious nut snacks this New Year. From plain, sweet to savoury, this gift box features a full variety of their nut and trail mixes, including crowd favourites such as the sweet & fragrant Pandan Coconut Nut Mix, mildly spiced Coconut Curry Lime Nut Mix, and the fruity Berry Antioxidant Trail Mix.
Take the chance to also meet the new roaring flavour – Miso Seaweed Nut Mix. A base of all-natural & protein packed almonds, cashews, and sunflower seeds generously coated in miso paste, seaweed shreds and sesame seeds, then baked to perfection to create an umami nut snack. It is one of the most exciting flavours to be launched by the brand, known to develop and celebrate Asian-inspired flavours which are highly sought after in different parts of the world.
Priced at RM39.90, you can now shop their CNY Gift Box online and get it delivered to you within 3 working days- no more queueing and carrying multiple gift boxes in the mall! Every box also comes with a Chinese New Year message card to pen down your heartfelt New Year Greetings for your loved ones. Whether it is for hosting or gifting, their CNY Gift Box is the best Gift of Health for anyone and everyone to kickstart a prosperous year ahead.
Let's eat better together so we can brave through the Year of 2022 in tip-top condition. Here's to being strong, brave and fierce together this New Year. Customers can find the Amazin' Graze 2022 Chinese New Year Gift Box online at www.amazingraze.com.my now and in selected retail stores and supermarkets too.
Sexual Reproductive Health Rights (SRHR) is a critical component in helping adolescent girls and young women make autonomous decisions about their own bodies and sexuality. It empowers them to take informed decisions about their sexuality and relationships, keeping them healthy, safe and dignified.
The lack of comprehensive sex education (CSE) in Malaysia has limited young people from accessing their rights to safe, affordable, high-quality sexual and reproductive health services and information. Parents and caregivers are an important source of SRHR information, but they often struggle with their own insufficient knowledge of the subject.
Sisters in Islam (SIS), a non-governmental organisation working towards advancing the rights of Muslim women in Malaysia, is committed in assisting young women to further progress their knowledge of SRHR. Their representative, Shafiqah Othman – a women and children's activist, has provided us with her insights and advice for young mothers and women in general to progress as an empowered informed parent or caregiver.
What is Sexual Reproductive Health Rights (SRHR)?
"Sexual Reproductive Health Rights (SRHR) encompasses the overall wellbeing of women, not only in terms of health but every aspect of our lives. It is the right to our bodily autonomy — to be able to make informed choices regarding our own body and teaching us to respect the rights of others to bodily integrity. SRHR also includes the right to access information and services needed to support these choices and optimise our health."
Why is it important for women and girls to know their SRHR?
"It is extremely important for girls and women, as individuals, to know and claim their rights to SRHR to ensure their physical and mental wellbeing. Although commonly, mothers are the closest figure to their children, I would like to stress that the responsibility of educating children should not be placed on mothers alone. Both parents play an equally important role on early education to spark health conversations about SRHR. The belief that only women or mothers should take serious note of these issues need to be debunked.
As young children are not capable of making their own informed decisions, parents in general must take on this role for their children. By equipping themselves with SRHR knowledge, they can make informed decisions on behalf of their children — decisions that protect their dignity and ensure their safety in all aspects of life.
For example, the procedure of female circumcision for our baby girls, otherwise known as FGM (female genital mutilation) is a topic that has been debated for years in Malaysia, despite being proven today of having no medical benefits for the child. Therefore, I encourage young parents or parents-to-be out there to do extensive research before making any decision for their child. For the sake of children's wellness, do not adhere to "cultural norms" just because it has always been that way.
With that said, any adult who holds a position where they can educate children are responsible for teaching young children about SRHR in age-appropriate ways to ensure that children understand that they have the right to say 'no'. Young children who don't know their SRHR rights tend to get easily manipulated by authority figures, where they are more likely to comply instead of listening to their own intuition when they are not comfortable with adults. Lack of SRHR knowledge can also make children vulnerable to online and offline grooming, which is a huge problem today with access to technology."
What are some examples of SRHR violations against women and children?
"Among them are: non-consensual sexual intercourse, forced abortion and pregnancy, denial towards contraceptive knowledge and access, female genital mutilation (FGM) and so forth. As mentioned above, there are a lot of instances where someone has taken advantage of a woman or a child's lack of knowledge regarding SRHR to sexually abuse them or hinder them from optimising sexual health resources.
SIS has been working closely with fellow women's rights NGOs such as AWAM, Women:Girls and FRHAM to gain more insights on the condition of violations towards women and girls in Malaysia. Based on our observation, a lot of our women and girls are still deprived of  comprehensive awareness of their rights.
In response to this alarming situation, responsible parties such as school, and the authorities should put more stress on SRHR education by implementing Comprehensive Sexuality Education (CSE). This is an apparent need as our women and girls are still left in the dark regarding bodily autonomy with the superficial sexual health education we have been receiving in academic institutions.
The lack of awareness could then lead to more serious health and social issues including unintended pregnancy, Sexually Transmitted Infections (STIs), sexual harassment and baby dumping, and even child grooming.
There is a lot of misconception that CSE means teaching children how to have sex which may lead to more baby dumping, but that is far from the truth. It also encompasses knowing what healthy relationships look like and understanding and respecting your own and other people's boundaries.
I believe that sexual health education should begin at home. Parents should initiate conversations surrounding sexual reproductive education with their children, even at an early age. It is important that children are familiar with their body parts and understand them. This is so that they can defend themselves and say 'no' to non-consensual physical touch from anyone, in the absence of parents or any trusted adults."
In the event of a violation, where can a victim turn to for help and guidance?
"SRHR violations in both verbal and non-verbal forms are often dismissed as jokes among irresponsible adults in Malaysia, however we should stop dismissing them and downplaying the issue. 'Harassments' disguised as jokes should never be tolerated nor overlooked, as it can create desensitisation hence leading to more serious harassment and manipulation later in life.
Should anyone be faced with a situation that violates their rights, the victims should lodge a report to the authorities, their parents, schools, police, or any trusted adults etc. While I am aware that a lot of times, these same authority figures tend to brush off the severity of a sexual violation, that's why I would also encourage victims to seek help from local women NGOs that are actively advocating against sexual violations such as AWAM, RRAAM, and FRHAM."
Is SRHR still a taboo in Malaysia?
"Yes, definitely. It's very common to see people shutting down conversations regarding SRHR online, but you don't even need to look very far. The topic itself remains largely avoided even amongst family members due to the stigma surrounding the issue.
A lot of parents today were raised by parents who tiptoed around the topic of SRHR, so it is their responsibility today to break that cycle. With technology and accessibility to all kinds of information, it is our responsibility as adults to continue educating ourselves regarding SRHR. Parents need to be the leading example and primary source of information for their children to know their own bodies.
Remember: if you're not talking to your child about these topics, someone else on the Internet will do that instead. A parent should be a child's first and most trusted person to approach for any issues that need urgent attention."
How does this stigma affect the access to SRHR information and services?
"Stigma surrounding SRHR has built an iron wall between the people and access to SRHR information and services. For example, there is stigma that only married women should go for pap smears even though it's been proven that a woman should go for routine pap smears regardless of her sexual history. This stigma does not only exist within the community, but also within doctors, who sometimes refuse this procedure simply because the patient is not married.
Other than that, the stigma surrounding SRHR can make individuals afraid to seek help. Women facing underlying sexual health concerns may not be given the treatment that they need, and children who are victims of grooming will not know where to turn to seek help.
Just by hearing and looking at the word 'sex' in SRHR is enough to make people shy away from it. Because of this, any conversation regarding SRHR is quickly shut down because people view it as "shameful", even though the knowledge is absolutely critical in ensuring an individual's health and wellness."
How can we overcome these social and cultural barriers?
"First, we need to dissolve the stigma surround SRHR by encouraging more public conversations. For it to happen, all members of society have to play their role in dissolving the stigma.
We can start by first educating ourselves and then bringing this knowledge to our peers and family. We can also talk about it on our own platforms, which may inspire and give others the courage to speak about SRHR as well.
It is important to note that rather than focusing about 'sex' itself, SRHR conversations lean more towards preventing more serious issues such as sexual health problems, unplanned pregnancies, STIs and sexual manipulation. By understanding this, communities will be able to work together to foster a healthy environment for women and children irrespective of ethnicity, religion, and cultural differences.
Aside from educating ourselves, our peers, and children at home, academic institutions should also stress the importance of SRHR education by implementing an independent subject of CSE into their syllabus."
At what age should parents or guardians start educating children about their SRHR?
"It is never too early to start educating your child on SRHR. Talking about sexual reproductive health and body parts from when your child is young can help your child understand that SRHR is a part of their life. A child's education should start as early as they start to understand the world and become more curious.
In this era of technology, parents can very easily look for education materials online that are age-appropriate for their children. The common framework for teaching children about SRHR are as follows:
0-2 years old: Teaching your child the anatomically correct terms for their genitals and privacy.
2-5 years old: Educating your child about boundaries, appropriate and non-appropriate touch, teaching consent and the power of 'no'.
5-8 years old: Discuss with your child on how to safely explore digital spaces, boundaries with strangers, the kind of information you can or cannot share online.
9-12 years old: Educate your child on sexism and sexualisation, emotional and social changes as they are entering puberty, sexual choices and safe sex.
Of course, this is just a guide and may be different depending on the parent or child. But it is important to remember that early education would imprint a sense of comfort and familiarity on a child. This is crucial to ensure that they would be comfortable enough to share their issues and concerns regarding SRHR with their parents when they are older. It also teaches them to not tolerate any form of non-consensual touch or harassment by friends or strangers when they enter their adulthood."
How can this education create a healthier society?
"By educating children at an early age, children would have early exposure of what is safe for them and what is not. This allows them to make informed decisions about their relationships and body as they grow older. Sexual health education does not only teach the basic of puberty and development, but also instills in children that they have the right to decide when to say 'no' when faced with non-consensual situations.
CSE also teaches children to respect the bodily autonomy of others, including differentiating what constitutes as sexual violence, understand why sexual violence is wrong, and how to find help if they have been assaulted.
We need to set the stage for open and honest discussions from a young age. The sense of comfort and trust will enable children to openly communicate about their sexual health. You'd be amazed to see how open discussions regarding SRHR between a parent and child can protect children throughout their lives."
How should a parent or guardian start the conversation on SRHR – what are some practical examples to make the conversation easier?
"The key message to an early SRHR education is that your child should be comfortable to come to you for open, honest and reliable information. They should also trust you enough to know that they should not feel scared or embarrassed to ask you about sexual reproductive health.
Ms Srividhya Ganapathy, co-founder of CRIB Foundation (Child Rights Innovation & Betterment) has gone a step further to educate parents to view their children as teammates, instead of viewing them as terrorists.
"Is your child a teammate or a terrorist? We don't trust terrorists; we always think they're up to something, we spy on them and feel no qualms about breaching their privacy. However, we treat teammates differently. We share with our teammates the same common goal (in this case, the safety of your child) and concerns about their well-being. We identify potential problems together, discuss them regularly and alert each other as soon as they occur."
Another important thing to keep in mind is approaching the child and explaining to them in age-appropriate ways. Educating them from a child's level of understanding is important in getting the knowledge across.
It is almost every child's nature to be interested in animations, thus parents can leverage on this to introduce education materials that can implement awareness in the child with regards to their own body, nurturing them to differentiate which types of touch are acceptable and which are not— from their parents, peers, or any adult.
Additionally, informal education can be initiated during bath time where parents can teach children to get to know their body parts. The path to equipping your child with CSE could start with something as simple as using the correct terms to refer to their reproductive parts (as mentioned above).
Worth reminding once again that if your child doesn't learn it from you, they will eventually learn it from someone else. You may have your child's best interest at heart, but others might not."
What are some dedicated online resources that empower children about their bodies and rights?
"More and more digital content is being developed to educate children about knowing their body parts and their rights to protect them. Among them are Fight Child Abuse YouTube channel and WonderGrove Kids. YouTube channels like these would help parents naturally initiate SRHR conversations with children as they are engrossed in animated videos.
Other than that, we have local groups like CRIB Foundation and The Talisman Project that are dedicated to educating parents and children alike on children's rights. Monsters Among Us MY also has plenty of resources to combat child sexual abuse and they even have a platform called Lapor Predator where a victim can report their abuses to a trusted adult within the organisation."
How can SRHR services be more youth-friendly to enable young people to access the advice and services they need?
"I strongly believe that first and foremost, SRHR education should begin at home. That way, a child will grow up open, comfortable, and knowledgeable about their rights to SRHR. This will allow them to have the courage to seek the services that they need.
I also believe that SRHR services should be discussed more widely within society so we can start eliminating the 'shame' that comes with talking about sexual health. People deserve to know the kind of treatments and check-ups they need to have in order to ensure their health and safety. As mentioned above, some doctors even refuse certain treatments or procedures on some patients due to stigma. It is important that we continue to speak against these injustices, especially since it involves an individual's health.
Nowadays, a lot of NGOs and digital media have been actively advocating for SRHR in non-judgmental and empathetic ways. A lot of youths rely on these resources for knowledge. These entities loudly advocating for SRHR also have helped pave the way for younger generations to speak up about SRHR and demanding their rights, which leads to them mustering the courage and confidence to seek services despite the stigma."
Good health is the foundation of happiness, and having a vibrant health supplies us with the desired energy to maximise our everyday lives. Maintaining a good health is also essential to keeping our bodies resilient, post pandemic. LAC, Leader in Antioxidative ControlTM, was founded with the aim to deliver happiness through the most powerful antioxidant to support your everyday health and wellness.
As we bustle around a full day's schedule of work and recreation, we often leave little time for our bodies to rest. This exposes us to free radicals which damage our cells and cause our internal systems to become unbalanced. This excessive exposure to free radicals, known as oxidative stress, can lead to age-related changes in appearance such as loss of skin elasticity, wrinkles, and poor circulation – all of which can lead to premature ageing.
To help combat the signs of ageing brought about by oxidative stress, it is essential to first protect and support our body's natural system and prepare it for the future. Combining the best of what Eastern wisdom and Western technology have to offer, LAC MASQUELIER's® French Pine Bark Extract, a powerful immune booster that harnesses the antioxidative qualities of the French pine tree for your total body protection through a unique three-way action protection.
As a health and wellness supplement brand with a global presence, LAC products are developed with scientifically-based formulas to leave you looking, feeling and functioning at your best. With an extensive range of products targeted at every aspect for your daily life, LAC offers a convenient solution for your everyday health and wellness at any age to bring you nutrition for life.
Introducing antioxidants as part of our diet has been proven to help stabilise free radicals and relieve our bodies of oxidative stress. While our bodies can produce antioxidants naturally, it may not always be sufficient to counteract the amount of free radicals we are exposed to on a daily basis. Beyond tapping on the intake of fresh produce and wholegrains, LAC MASQUELIER's® French Pine Bark Extract is also a powerful source of antioxidants to support your body's natural systems.
LAC MASQUELIER's® French Pine Bark Extract, available in 50, 175 and 300 tablet packs
LAC MASQUELIER's® French Pine Bark Extract is the world's first widely researched and scientifically proven Oligomeric Proanthocyanidin Compounds (OPCs) discovered by ground-breaking scientist, Professor Jack Masquelier. Known as nature's super antioxidant, each tablet provides 100mg MASQUELIER's® Original OPCs + French Pine Bark Extract, and is proven to contain 85% actives (single and oligomeric forms of flavanols), one of the highest in the market and is essential in promoting healthy skin and blood vessels. This unique and rich complex of OPCs contained within each tablet helps you to get a convenient dose of antioxidants through a safe and unique three-way action protection that:
Neutralise free radicals in our body to slow down ageing
Improve overall blood circulation and accelerate drainage of waste materials from our body
Strengthen and retain collagen for supple and elastic skin
Simply take one to two tablets per day[1] with a glass of water or fruit juice for a convenient dose of antioxidants to boost your overall health.
[1] As a dietary supplement, the recommended direction of use is 1 – 2 tablets per day with water or fruit juice, or at least 1 tablet for every 100lb (45 kg) of body weight
When you get caught up in your everyday routine of work and leisure, it is often easy to forget about your health and well-being. However, achieving great health and overall wellness can be effortless and effective. With LAC MASQUELIER's® French Pine Bark Extract, take a convenient step towards your wellness journey to kickstart your happiness with LAC today.
LAC MASQUELIER's® French Pine Bark Extract is certified free of yeast, wheat, corn, milk, egg, soy, gluten, animal derivatives, sugar, starch, artificial colouring and preservatives and is vegan friendly.  Retailing in all LAC and GNC stores, and on LAC's e-commerce store from RM266.40 for a box of 50 tablets, RM885.10 for a box of 175 tablets and RM1,445.55 for a box of 300 tablets. For more information, please visit LAC's e-commerce store.
Plant-based meats have taken over the world in the past two years – and it's not just about veganism being in vogue. As more consumers consider a meatless future – for environmental, ethical, health, or taste reasons – plant-based food options have been springing up and added to menus all over the country.
If you're on the hunt for the next green grub hotspot, we've got a list of the seven best places around Malaysia to grab your favourites!
#1 Sala
Chick'n Ranch Wrap
Get your Tex-Mex flavour fix at Sala, a Latin-inspired vegan restaurant that packs a punch with its delicious offerings. For vegan options that taste so much like meat you can't tell the difference, we recommend the delicious Chick'n Ranch Wrap. With an option to smother the wrap in delicious sauces such as vegan ranch, vegan honey mustard and sweet Thai chilli, this delicious treat is also served with coleslaw and fries. This plant-based treat is as indulgent as it is satisfying. *Chefs kiss*.
Location:
Available at all Sala outlets in Hartamas, The Row, Desa Park City, Mont Kiara, Bandar Rimbayu, Avenue K, and Alamanda.
#2 Da Bao
 Phuture Cheese-bao-ger 
It's time to tapau (or dine-in!) from Da Bao! This chic hangout spot is known for serving up unique and delicious twists on the Malaysian-favourite bao. If you're looking to go plant-based, give their famed Phuture Cheese-bao-ger a go – stuffed with a deliciously juicy plant-based patty that's smothered in vegan cheese, this treat will keep you coming back for more! And if you're looking for a more classic bao flavour, the Spicy 'Chicken' Bao with sweet and sour pickles served with spicy garlic aioli is a treat that's hard to beat!
Location:
145, Jalan Petaling, City Centre, 50000 Kuala Lumpur, Wilayah Persekutuan Kuala Lumpur
#3 Thursdvy by Hijau KL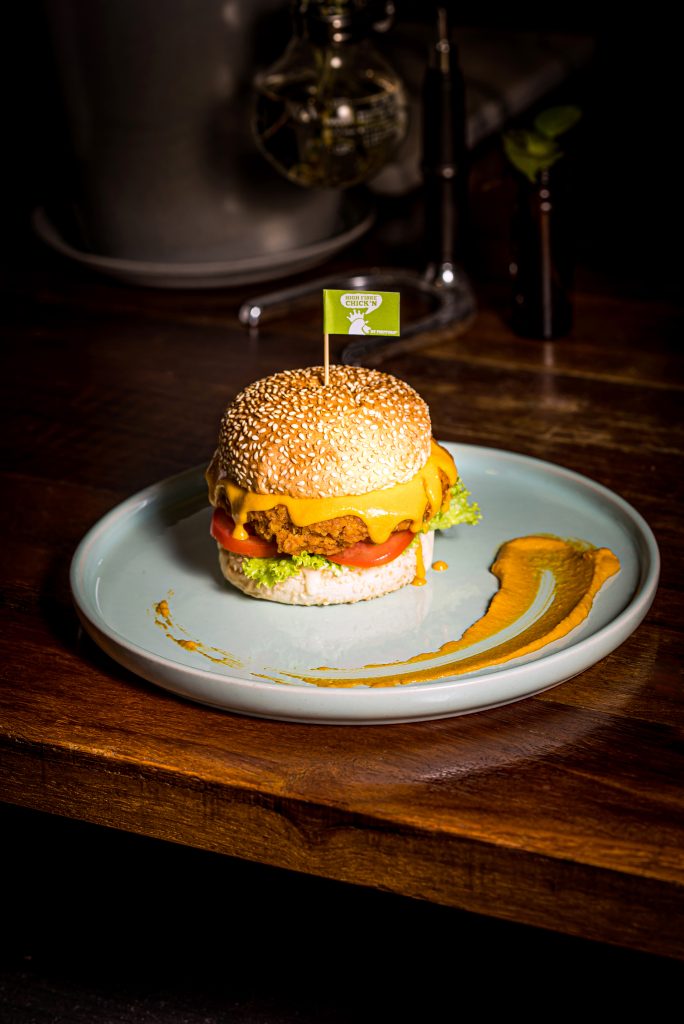 Hijau Chick'n Burger
Famous for plant-based Japanese-fusion comfort foods that are good for the body and soul, you can't go past Thursdvy by Hijau. The Hijau Chick'n Burger is a must-try, with its juicy plant-based chicken patty smothered in gooey vegan cheese… we can hear you drooling already.
Location:
22, Lorong Datuk Sulaiman 1, Taman Tun Dr Ismail, 60000 Kuala Lumpur, Wilayah Persekutuan Kuala Lumpur
#4 LeFood
HFC Spicy Chick'
Attention Subangites! Enjoy a healthy meal at vegan-friendly restaurant LeFood. LeFood prides itself on serving freshly cooked meals with quality and natural ingredients. Try out their delicious HFC Classic Chick'n or Spicy Chick'n burgers for a wholesome meal that will surely satisfy!
Location:
No. 7G, Jalan SS18/1B, 47500, Subang Jaya
#5 V-life
  Smoky n' Picante Crispy Chicken Burger
For any plant-based vegan foodies in Ipoh, we've got you covered! V-Life is a local hotspot for plant-based grub, and we highly recommend checking out its Smoky n' Picante Crispy Chicken Burger. This delicious plant-based burger is so good, it's hard to only eat one!
Location:
42, Lintasan Perajurit 6, Taman Ipoh Timur, 31400 Ipoh, Perak
#6 Bowl Bowl
Salted Egg & Butter Milk Bowl 
If you love your rice (who doesn't?), then head to Bowl Bowl for their amazing signature Salted Egg & Buttermilk Bowl that is served with crispy chicken or a plant-based alternative. If you're looking for a different flavour profile, try their unique Longan Sweet & Sour "Chicken" Rice Bowl, which is just as delicious – and just as meat-free!
Location:
Rinse KL, 15, Jalan Damar SD 15/1, Bandar Sri Damansara, 52200 Kuala Lumpur, Selangor
#7 Vintage 1988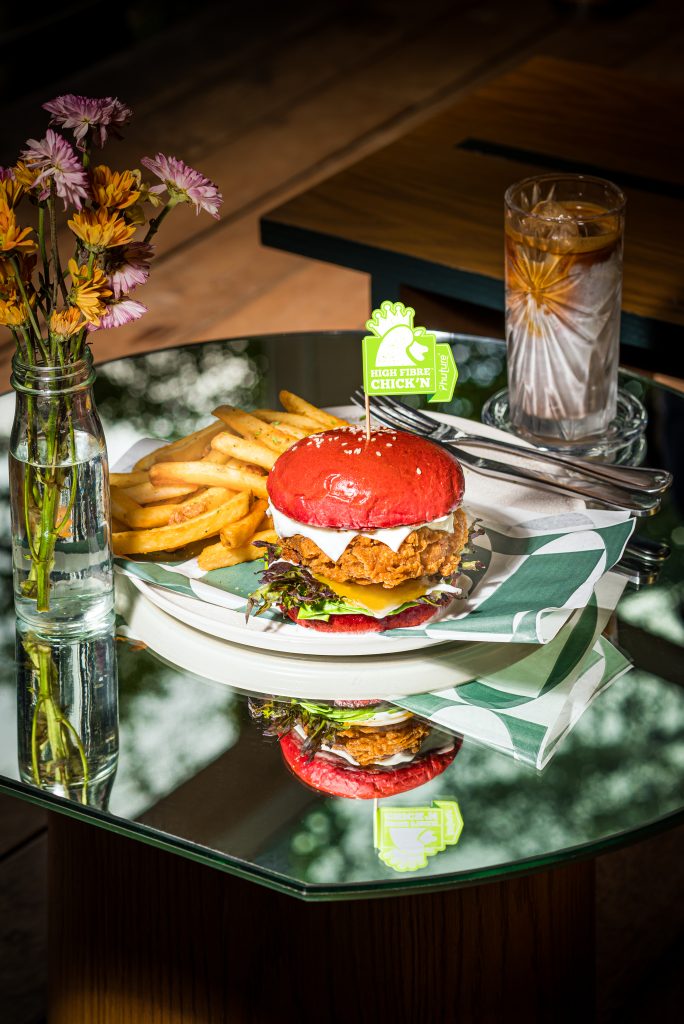 High-Fibre Crispy Chick'n Burger
Vintage 1988 offers a myriad of wholesome meals for everyone to enjoy. They have a variety of vegetarian, vegan and non-vegan options – a must-try is their High-Fibre Crispy Chick'n Burger, featuring a delicious plant-based 'chicken' patty in their signature beetroot bun with butterhead lettuce, red frisee, and caramelised peaches, smothered in vegan mayonnaise and sliced mozzarella.
Location:
Vintage 1988, 34, Jalan Sultan, City Centre, 50000 Kuala Lumpur, Selangor
Given the current situation, it is very crucial to make living consciously a way of life by observing a balanced diet and exercise in an effort to have a healthy body and mind. There is a need to look at ways to cope with the current situation and be more vigilant in how we live our lives. Hence, Amway Malaysia has embarked on empowering Malaysians to make balanced lifestyle a priority through a webinar.
"It is pertinent to look after ourselves in an effort to maintain good health while we are coping with the situation. As we are constantly faced with the emergence of new variants, we should place great emphasis on observing our health by monitoring our diet and practising an active lifestyle," commented Dr. Sareena Hanim Hamzah, Senior Lecturer and Deputy Director for research at Centre for Sport and Exercise Sciences, Universiti Malaya.
"While practising a well-balanced lifestyle, we should consistently observe our diet habits to provide sufficient energy and nutrients for the body and avoid overeating. In order to remain active, it is also advisable to do at least 150 – 300 minutes of moderate-intensity aerobic physical activity throughout the week for substantial health benefits. This also helps pump up endorphins and reduce stress. Hence, we can maintain a balanced lifestyle," she added.
"Healthy diet is also important in supporting our immune system. A good healthy diet with rich nutrition can reduce the likelihood of developing other health issues, such as obesity, heart disease or diabetes," added Indra Balaratnam, a dietitian.
Many people are pursuing a healthier lifestyle by adding protein to their diet. There are various sources of protein such as the natural consumption of protein food, protein supplements and meal replacements. Protein has been associated with muscle gain, muscle recovery or weight loss.
"Protein is a macronutrient to our body and is broken down into amino acids. It is important for growth, maintenance of body tissues, metabolic regulation which helps in maintaining a healthy weight, curbing hunger and speeding muscle recovery. You can find the natural protein goodness from meat, fish, egg, tofu, beans and dairy products," said Indra Balaratnam.
Indra further explained that protein also plays a role in increasing neurotransmitters that communicate with our brain to make us feel awake and alert. Hence, she explains that including protein-rich choices as part of our healthy, balanced breakfast can help us feel energized and more satisfyingly nourished.
While on the subject of starting the day right, Amway Malaysia recently conducted a social media poll asking Malaysians about their favourite breakfast beverages. It garnered responses from 1000 respondents. According to the poll result, Malaysians prefer coffee, tea and protein shakes as their morning beverages.
"Coffee and tea are always on the list as these beverages have been part of our diet but many are not aware of the nutritional value. However, it is very interesting to see Malaysians consuming protein shakes for morning beverages in an effort to pursue a healthier lifestyle," added Indra.
"You should have a healthy and balanced diet plan by including protein in every meal besides carbohydrate and other nutrients. Protein shakes can work as a complement to other dietary elements. Constant exercise coupled with healthy consumption habits can lead to a balanced lifestyle," concluded Dr Sareena.
The guests deliberated on the importance of a balanced lifestyle while coping with the current situation, the benefits of protein consumption and Malaysians' favourite beverage. This was through a webinar titled, "Start Your Day Right With A Nutritious Drink" which was conducted by Amway Malaysia. The session was moderated by Che Puan Sarimah Ibrahim, an Irish Malaysian TV host and award-winning emcee. The panelists were Indra Balaratnam, a consultant dietitian and Dr Sareena Hanim Hamzah, a Senior Lecturer and Deputy Director for research at Centre for Sport and Exercise Sciences, Universiti Malaya.
As part of the campaign to empower the general public on the importance of a balanced lifestyle and protein intake for overall health, Amway Malaysia collaborated with healthcare experts and dietitians.  The webinar session is available for the public and can be accessed on Amway Malaysia's Facebook page. For more information, please visit https://www.amway.my/.
(Re)Discover the wonders of holiday this year with healthy snacks to indulge in and share with your loved ones. We can always count on good food to bring people together, so let's take it even further by encouraging everyone to spend time with one another, preparing their favourite Christmas goodies with the help of Amazin' Graze.
Amazin' Graze believes that Christmas is all about creating special memories together. From unboxing surprises with your family, to sharing delicious breakfast spreads with friends, it's moments like these that we'll forever cherish. This holiday season, we want to inspire everyone to come together again –through the wonders of deliciously healthy festive snacks. With this in mind, our magical Festive Gift Box Collection was born. 
"After the year we've had, holiday traditions have slightly changed. However, it is in embracing these changes that we begin to appreciate the little things. A magical Christmas recreates traditions and welcomes new ways of celebration. Besides constantly improving our recipes and producing healthy snacks, we as a company (that encourages eating better together), strongly believe in crafting the perfect gift of health. Whether you're sending it to family and friends, or treating yourself, it will surely put everyone in a jolly good mood!" added Amy Zheng, founder and CEO of Amazin' Graze. 
With the aim of supporting locals, Amazin' Graze developed a series of limited edition festive gift boxes. This collection was thoughtfully illustrated by our very talented local Malaysian artist and illustrator, Yiqing Gan,  who believes in connecting people through her whimsical strokes and creativity. 
Yiqing's artwork is featured throughout our Amazin' Graze Festive Gift Box Collection. This includes our Festive Snack Gift Box (RM45.90), which has a variety of our most loved Amazin' mini nut mixes and granola bites. Our mouthwatering Festive Nut Butter Gift Box (RM48.80) serves as a perfect taster of all our nut butters in mini jars, and an all time classic Festive Granola Gift Box (RM39.90) which comes with 8 delicious snack packs.
Like all Amazin' Graze products, our exclusive Festive Gift Box Collection is made using only natural ingredients, with no added refined sugar, additives, preservatives, flavouring, orcolouring, adhering to the brand's philosophy. 
Send your loved ones a thoughtful gift of health this season. With the presence of Amazin' Graze in Malaysia, Singapore, Hong Kong, Australia, and China, customers are able shop our complete Festive Collection online here, and in selected stores nationwide.