Join Amazin' Graze on a roaring journey of health and prosperity this New Year with their newly-launched and limited-edition CNY Nut Mix Gift Box. Amazin' Graze wishes for everyone to strive to #BeATiger that prospers and roars in the Year of the Tiger. This new gift box is launched in line with their mission to help you adopt the 'tiger spirit' with the gift of health so that you can prosper in wealth by putting your health first.
Light up your room with an abundance of healthy, delicious nut snacks this New Year. From plain, sweet to savoury, this gift box features a full variety of their nut and trail mixes, including crowd favourites such as the sweet & fragrant Pandan Coconut Nut Mix, mildly spiced Coconut Curry Lime Nut Mix, and the fruity Berry Antioxidant Trail Mix.
Take the chance to also meet the new roaring flavour – Miso Seaweed Nut Mix. A base of all-natural & protein packed almonds, cashews, and sunflower seeds generously coated in miso paste, seaweed shreds and sesame seeds, then baked to perfection to create an umami nut snack. It is one of the most exciting flavours to be launched by the brand, known to develop and celebrate Asian-inspired flavours which are highly sought after in different parts of the world.
Priced at RM39.90, you can now shop their CNY Gift Box online and get it delivered to you within 3 working days- no more queueing and carrying multiple gift boxes in the mall! Every box also comes with a Chinese New Year message card to pen down your heartfelt New Year Greetings for your loved ones. Whether it is for hosting or gifting, their CNY Gift Box is the best Gift of Health for anyone and everyone to kickstart a prosperous year ahead.
Let's eat better together so we can brave through the Year of 2022 in tip-top condition. Here's to being strong, brave and fierce together this New Year. Customers can find the Amazin' Graze 2022 Chinese New Year Gift Box online at www.amazingraze.com.my now and in selected retail stores and supermarkets too.
Plant-based meats have taken over the world in the past two years – and it's not just about veganism being in vogue. As more consumers consider a meatless future – for environmental, ethical, health, or taste reasons – plant-based food options have been springing up and added to menus all over the country.
If you're on the hunt for the next green grub hotspot, we've got a list of the seven best places around Malaysia to grab your favourites!
#1 Sala
Chick'n Ranch Wrap
Get your Tex-Mex flavour fix at Sala, a Latin-inspired vegan restaurant that packs a punch with its delicious offerings. For vegan options that taste so much like meat you can't tell the difference, we recommend the delicious Chick'n Ranch Wrap. With an option to smother the wrap in delicious sauces such as vegan ranch, vegan honey mustard and sweet Thai chilli, this delicious treat is also served with coleslaw and fries. This plant-based treat is as indulgent as it is satisfying. *Chefs kiss*.
Location:
Available at all Sala outlets in Hartamas, The Row, Desa Park City, Mont Kiara, Bandar Rimbayu, Avenue K, and Alamanda.
#2 Da Bao
 Phuture Cheese-bao-ger 
It's time to tapau (or dine-in!) from Da Bao! This chic hangout spot is known for serving up unique and delicious twists on the Malaysian-favourite bao. If you're looking to go plant-based, give their famed Phuture Cheese-bao-ger a go – stuffed with a deliciously juicy plant-based patty that's smothered in vegan cheese, this treat will keep you coming back for more! And if you're looking for a more classic bao flavour, the Spicy 'Chicken' Bao with sweet and sour pickles served with spicy garlic aioli is a treat that's hard to beat!
Location:
145, Jalan Petaling, City Centre, 50000 Kuala Lumpur, Wilayah Persekutuan Kuala Lumpur
#3 Thursdvy by Hijau KL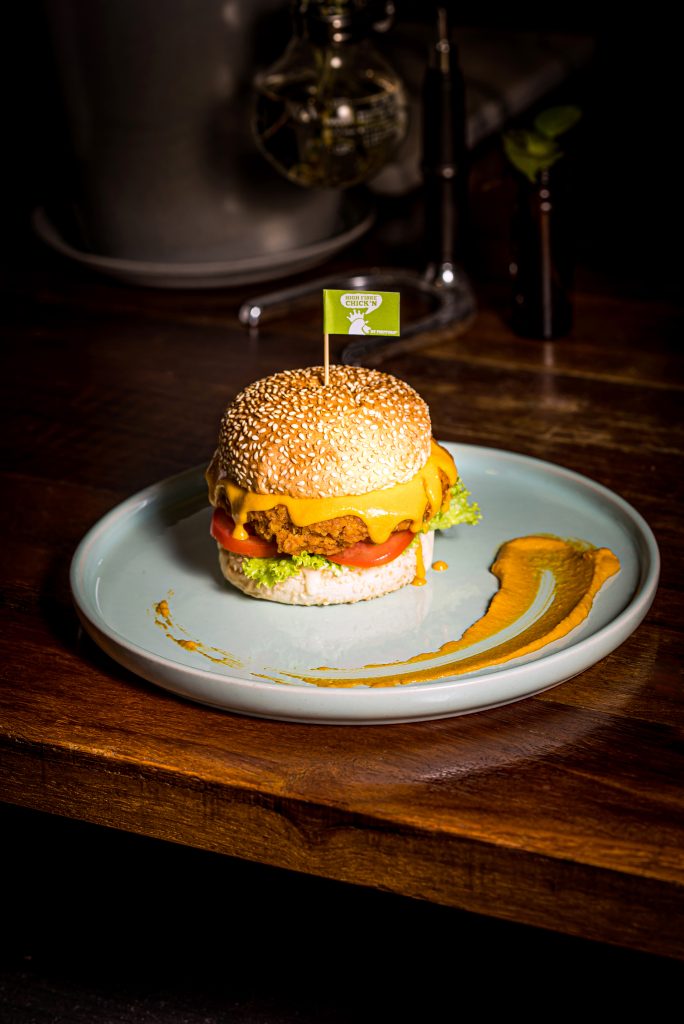 Hijau Chick'n Burger
Famous for plant-based Japanese-fusion comfort foods that are good for the body and soul, you can't go past Thursdvy by Hijau. The Hijau Chick'n Burger is a must-try, with its juicy plant-based chicken patty smothered in gooey vegan cheese… we can hear you drooling already.
Location:
22, Lorong Datuk Sulaiman 1, Taman Tun Dr Ismail, 60000 Kuala Lumpur, Wilayah Persekutuan Kuala Lumpur
#4 LeFood
HFC Spicy Chick'
Attention Subangites! Enjoy a healthy meal at vegan-friendly restaurant LeFood. LeFood prides itself on serving freshly cooked meals with quality and natural ingredients. Try out their delicious HFC Classic Chick'n or Spicy Chick'n burgers for a wholesome meal that will surely satisfy!
Location:
No. 7G, Jalan SS18/1B, 47500, Subang Jaya
#5 V-life
  Smoky n' Picante Crispy Chicken Burger
For any plant-based vegan foodies in Ipoh, we've got you covered! V-Life is a local hotspot for plant-based grub, and we highly recommend checking out its Smoky n' Picante Crispy Chicken Burger. This delicious plant-based burger is so good, it's hard to only eat one!
Location:
42, Lintasan Perajurit 6, Taman Ipoh Timur, 31400 Ipoh, Perak
#6 Bowl Bowl
Salted Egg & Butter Milk Bowl 
If you love your rice (who doesn't?), then head to Bowl Bowl for their amazing signature Salted Egg & Buttermilk Bowl that is served with crispy chicken or a plant-based alternative. If you're looking for a different flavour profile, try their unique Longan Sweet & Sour "Chicken" Rice Bowl, which is just as delicious – and just as meat-free!
Location:
Rinse KL, 15, Jalan Damar SD 15/1, Bandar Sri Damansara, 52200 Kuala Lumpur, Selangor
#7 Vintage 1988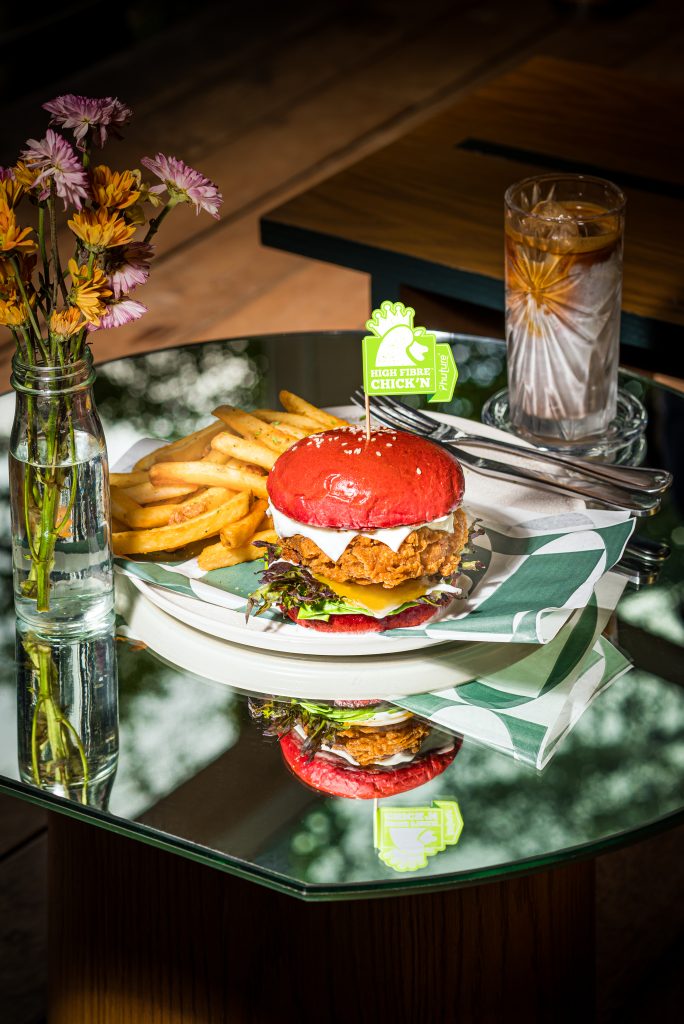 High-Fibre Crispy Chick'n Burger
Vintage 1988 offers a myriad of wholesome meals for everyone to enjoy. They have a variety of vegetarian, vegan and non-vegan options – a must-try is their High-Fibre Crispy Chick'n Burger, featuring a delicious plant-based 'chicken' patty in their signature beetroot bun with butterhead lettuce, red frisee, and caramelised peaches, smothered in vegan mayonnaise and sliced mozzarella.
Location:
Vintage 1988, 34, Jalan Sultan, City Centre, 50000 Kuala Lumpur, Selangor
(Re)Discover the wonders of holiday this year with healthy snacks to indulge in and share with your loved ones. We can always count on good food to bring people together, so let's take it even further by encouraging everyone to spend time with one another, preparing their favourite Christmas goodies with the help of Amazin' Graze.
Amazin' Graze believes that Christmas is all about creating special memories together. From unboxing surprises with your family, to sharing delicious breakfast spreads with friends, it's moments like these that we'll forever cherish. This holiday season, we want to inspire everyone to come together again –through the wonders of deliciously healthy festive snacks. With this in mind, our magical Festive Gift Box Collection was born. 
"After the year we've had, holiday traditions have slightly changed. However, it is in embracing these changes that we begin to appreciate the little things. A magical Christmas recreates traditions and welcomes new ways of celebration. Besides constantly improving our recipes and producing healthy snacks, we as a company (that encourages eating better together), strongly believe in crafting the perfect gift of health. Whether you're sending it to family and friends, or treating yourself, it will surely put everyone in a jolly good mood!" added Amy Zheng, founder and CEO of Amazin' Graze. 
With the aim of supporting locals, Amazin' Graze developed a series of limited edition festive gift boxes. This collection was thoughtfully illustrated by our very talented local Malaysian artist and illustrator, Yiqing Gan,  who believes in connecting people through her whimsical strokes and creativity. 
Yiqing's artwork is featured throughout our Amazin' Graze Festive Gift Box Collection. This includes our Festive Snack Gift Box (RM45.90), which has a variety of our most loved Amazin' mini nut mixes and granola bites. Our mouthwatering Festive Nut Butter Gift Box (RM48.80) serves as a perfect taster of all our nut butters in mini jars, and an all time classic Festive Granola Gift Box (RM39.90) which comes with 8 delicious snack packs.
Like all Amazin' Graze products, our exclusive Festive Gift Box Collection is made using only natural ingredients, with no added refined sugar, additives, preservatives, flavouring, orcolouring, adhering to the brand's philosophy. 
Send your loved ones a thoughtful gift of health this season. With the presence of Amazin' Graze in Malaysia, Singapore, Hong Kong, Australia, and China, customers are able shop our complete Festive Collection online here, and in selected stores nationwide.
Australia's most popular barista milk for coffee has added Oat milk to its offering. MILKLAB Oat milk is now available in Malaysia through select participating cafés and food service outlets.
MILKLAB Oat milk is versatile for use in both hot and cold beverages, and is the new creamy alternative to dairy milk with 100 per cent Australian oats, with a rich and creamy mouthfeel and a texture similar to full cream dairy, to produce the perfect pour.
Rich with a natural, subtle sweetness that complements the flavour of espresso coffee, oat milk is the fastest growing plant-based beverage, having grown by more than 400 per cent since 2017, according to the Café 2025 Report.
The MILKLAB team had spent two years working with some of the world's best coffee professionals to develop Oat milk to blend perfectly with espresso coffee.
"The MILKLAB brand is synonymous with a range-solution of milk offerings that would not only suit a variety of tastes and dietary needs, but also address the increasing number of consumers worldwide looking to switch from regular dairy to plant-based milk," said Peter Brown, Regional Director, China, Southeast Asia and Middle East, Freedom Foods Group, the brand owner of MILKLAB. "We are very excited to be adding our new Oat milk offering to our collection today which we had spent two years in development, and we are proud to be launching a remarkable product that has been developed in collaboration with the industry, for the industry."
"I'm confident that baristas, resellers and distributors, coffee business owners and connoisseurs, as well as 'plant-curious' coffee aficionados who currently drink dairy and other plant-based milk with their coffee will be delighted to indulge in MILKLAB Oat milk for its exquisite taste while reaping its health benefits," added Brown.
According to an independent research panel, MILKLAB Oat milk outperforms the current market leader for taste and overall appreciation.
Introducing MILKLAB Life & Coffee Consumer Incentive Program
Life's special moments often happen between friends and loved ones, usually over a cup of favourite café latte. Girlfriends catching up in their favourite café, two love birds going on their first date over coffee, or a bookworm enjoying their new novel with a cup of mocha.
Having a good cup of coffee is an essential part of our lives today. With coffee lovers having a more discerning palate, it is important to have good quality milk to complement the coffee and enhance the flavour. Coffee lovers who are health conscious and prioritize healthy eating will enjoy the delicious plant-based MILKLAB Oat milk with their coffee, now available across Malaysia.
MILKLAB Life & Coffee integrates life's special moments and the love for coffee together with the launch of MILKLAB Oat in Malaysia. Runners, cyclists, people who are out exercising or walking can follow the instructions here to redeem their FREE MILKLAB Life & Coffee upgrade that can be from the nearest participating café. Search on the Café Hopping Trail on Google Maps to get the location of the nearest participating cafes from here.
PHUTURE®, the Malaysia-based food technology and innovation startup, recently launched it's High-Fibre Chick'n range that includes a variety of plant-based crispy chicken breast patties, popcorn chicken bites and breast strips.
This new product range is part of PHUTURE®'s wider selection of high-fibre plant-based offerings and is in line with the company's mission to help consumers make more nutritious and sustainable choices without having to sacrifice food and flavours they love.
"While food is a big part of our culture, early on during our research we discovered that a lot of Malaysians suffer from nutritional deficiencies," said Jack Yap, CEO of PHUTURE®.
"Although the plant-based food market in the country is rich in high-protein options, it is lacking in fibre, with Malaysian adults only consuming about half the required daily amount on average. As this deficiency can lead to life-threatening conditions such as heart attacks and diabetes, we needed to create a plant-based alternative that doesn't just appeal to the Malaysian palate but directly addresses dietary deficiencies in our community," he added.
Appealing to the local love for fried chicken, PHUTURE®'s High-Fibre Chick'n range is innovatively created using PHUTURE®'s 4-fibre blend, that consists of a mix of soluble and insoluble fibres such as oat fibre, apple fibre & etc. to naturally replicate the texture and flavour of chicken and help Malaysians reach their daily dietary requirements.
"We are very proud of the innovation we have achieved with our High-Fibre Chick'n range. Not only does it take care of daily fibre requirements, but it's also perfectly matched to the local preferred taste profile – in addition to being more sustainable than regular meat. We realise that we can't expect all Malaysians to make greener choices all the time, but we hope that with this new range of products, we are able to make plant-based meats more accessible to the masses. The response so far has been very positive, with orders having sold out for 7-days straight since our soft launch. I hope this indicates a healthy appetite for plant based meat alternatives," said Yap.
More on High-Fibre Chick'n: 
PHUTURE®'s High-Fibre Chick'n contains 13g of fibre (half the daily required amount of fibre in just one serving), helping Malaysians increase their daily fibre intake through one of their favourite foods.
High-Fibre Chick'n also contains 35%-45% less fat and 45% less sodium as compared to 100g of regular fried chicken.
High-Fibre Chick'n contains 11g of rice and non-GMO soy protein per serving, which are good sources of vitamin D, calcium, potassium, and iron.
High-Fibre Chick'n halal-certified by JAKIM, and is also free of preservatives, and has no added sugar and no added MSG.
Additionally, PHUTURE®'s High-Fibre Chick'n's sustainable innovations follow the UN's Sustainable Development Goal 2 (ending hunger and achieving food security), and Sustainable Development Goal 3 (good health and wellbeing).
High-Fibre Chick'n can be ordered ready-to-eat at www.orderhfc.com and will be available at selected restaurant partners in October.
@wildgingermyPHUTURE®️'s High-Fibre Chick'n is a meat-free alternative that's also free of preservatives, has no added sugar & no added MSG 🍗!
Elevating a whole new joyful experience of Healthy Made Tasty, Hellmann's introduces an all-new range with three flavours that put life into pleasure by featuring a bold and exquisite taste – Blueberries & Lime, Triple Citrus andMiso Ponzu.
Inspired by a combination of Asian flavours with fresh premium ingredients, ranging from farm-fresh Blueberries, a concoction of Yuzu, Lemon and Lime, as well as Japanese styled Miso and Ponzu that are naturally healthy and tasty. Rich in omega-3 and omega-6 fatty acids, these new dressings will not only up your salad game but can be integrated into other healthy meals, making your daily meal even more scrumptious.
Hellmann's have been all about bringing the best in real, pleasurable food moments – and in every culture, food plays a big role in people's lives. At Hellmann's, the brand believes that both taste and health are made possible through their delicious dressings. Today, Hellmann's aims to cultivate Malaysians to make healthier choices with the selection of the best, premium ingredients. Healthy food can be tasty and rightfully so.
While the pandemic has brought many Malaysians together, Hellmann's aims to continue connecting people by bringing a fun way to celebrate life and deliciously healthy food through a dance challenge. Truly, there is no better time than to move to the beat. In this challenge, Hellmann's will be selecting 10 lucky winners to receive the exclusive Hellmann's giftset and a chance to participate in a virtual cooking class with social media star, Jestinna Kuan.
With many Malaysians are spending most of their time at home, Hellmann's have envisioned to bring the winners into a journey of Healthy Made Tasty with recipes to try from the new range. To participate, contestants would need to follow Jestinna x Hellmann's dance challenge and post on Instagram with the campaign hashtag #HealthyMadeTasty #HellmannsRealTaste #HellmannsMY, and tag @HellmannsMY and @Jestinna.
With the trendiest flavours to excite your palette, Hellmann's brings you tasty and healthy meals. Grab them today in stores or online at Shopee store or Lazada's Grocery store. Explore many more healthy and tasty recipes that you can pair with new Hellmann's salad dressings here.
'Yes, I will have the meatball sub. Again'. 
Don't get us wrong, we love a meatball sub. But while Subway's flavour combinations across breads, proteins, fresh vegetables and sauces are endless, it's not uncommon to fall into a 'signature Sub' rut. 
To help you try something #fresh, we've got 5 fun Sub suggestions for you to try the next time you're hungry. 
#1 – Add some mac and cheese (yes, for real)
Did you know that you can add mac and cheese to your sub? While it may sound odd at first, it makes a lot of sense to add some cheesy goodness to your favourite sub to create an indulgent treat. 
Don't fancy having mac and cheese in your sub? Enjoy mac and cheese on the side instead! That's right, mac and cheese can be purchased as a side  to accompany your delicious sub.
#2 – Tuna goes on everything 
Don't be outraged – hear us out! According to Subway's Sandwich Artists, the most popular protein combination is meatballs with a scoop of tuna. Who would have thought? This is closely followed by egg mayo with tuna, and chicken teriyaki…with tuna. Our verdict? If the people love it, there must be something to this surf-and-turf approach. Why not give it a try and see what all the fuss is about? 

Pro Tuna Tip:  A plain tuna sub is best paired with sweet onion sauce! 

#3 – Add corn for some extra crunch! 
It's time to expand your vegetable horizons! If you're looking to hit your vegetable quota for the day in a fun way, try adding some corn to your sub. An extra scoop of corn doesn't just taste great, but it's also a healthier way of adding some delicious crunch to your sub. Yum! 

#4 – Turn up the indulgence-factor with some chips! 
If you'd like to make your sub a little more indulgent, order a bag of potato chips as a side and do what a lot of our guests like to do – have a seat, rip open the bag of potato chips, and add them straight into the sub! *crunch*
#5 – Try the hottest sub!
Love spicy food, but adding chili sauce just isn't enough to get that heat kick you crave? We got you! For a limited time only, we've brought back the Spicy Buffalo Chicken Sub with a new recipe that is hotter than ever! Head on over to your nearest Subway if you're ready to feel the heat. 
Food delivery services have always been popular – even before the pandemic, we indulged in the variety and convenience of food delivery applications, such as GrabFood and FoodPanda, that allowed us to enjoy our favourite meals in the comfort of our own homes. It comes as no surprise that the demand for these flexible food delivery services has surged since we've had to stay indoors to curb the spread of the virus. Although it has helped some restaurants stay afloat, it has also accelerated the consumption of single-use plastics.
In 2019, Malaysia banned single-use plastic straws and imposed a plastic bag charge for customers of all businesses. Less than a year later, when the coronavirus broke out, that progress was reversed due to health concerns and fear that reusable items could spread the disease. This makes it crucial for us to make more eco-conscious decisions and become ethical consumers, like ordering from restaurants that have embraced sustainable practices or choosing not to use plastic cutlery on GrabFood.
To make your search for eco-friendly restaurants easier, we've compiled a list of seven F&B businesses you can support that champion the cause through sustainable packaging, plant-based meals, and promoting an environmentally-friendly lifestyle.
1. Rawsome
View this post on Instagram
Rawsome is a health food brand that serves up Asian-style vegetarian and vegan meals made from organic ingredients. You'll be able to dig into their Vegetarian Nasi Lemak or Ramen Pan Mee without feeling guilty afterwards!
Sustainability Practices: Plant-based food and uses paper packaging, bio-degradable cutlery, paper straws.
Order via GrabFood.
2. Strangers At 47
View this post on Instagram
This award-winning cafe is known for whipping up both sweet and savoury fusion crepes. Their menu does include other hearty meals, such as rice bowls and pasta, which you can enjoy with their specialty coffee and cakes.
Sustainability Practices: Uses plant-based and compostable packaging, paper wrapping, paper bags.
3. KyoChon
View this post on Instagram
Who doesn't crave KyoChon's famous and flavourful Korean fried chicken? You can now chow down a meat-free version of their wraps and bibimbap, made from Harvest Gourmet, which still has the same crunch!
Sustainability Practices: Plant-based options and uses paper packaging, paper bags.
Order via their website or GrabFood.
4. Vegelab
View this post on Instagram
Offering an array of delicious vegetarian and vegan dishes, from Western cuisine to local, Vegelab is on a mission to spread awareness for a balanced, plant-based lifestyle. They are determined to improve health and wellness for both ourselves and the planet!
Sustainability Practices: Plant-based, uses paper packaging and paper bags, and promotes sustainability on their social media.
Order via Oddle.
5. Salad Atelier
View this post on Instagram
Looking for healthy fast food? This salad joint puts together quick and easy bowls filled with fresh ingredients! From Omega 3 dense poke bowls to healthier versions of classic sandwiches, Salad Atelier will make sure you get all the nutrients you need.
Sustainability Practices: Uses paper packaging and promotes sustainability on their social media.
Order via GrabFood.
6. Cauli & Rice
View this post on Instagram
Filled with antioxidants, like Vitamin A and Vitamin C, cauliflower rice is a satisfying way to up your vegetable intake. Cauli & Rice offers this with their nourishing bowls made with familiar flavours, such as Tom Yam, Belacan and Curry.
Sustainability Practices: Uses paper packaging.
Order via their website or GrabFood.
7. Charlie's Cafe
View this post on Instagram
Known for their chicken chop, Charlie's Cafe is a social enterprise restaurant that has been around since 2015. The friendly neighbourhood cafe serves up local comfort food, from Sarawak Laksa to Nasi Lemak, using fresh produce purchased directly from Orang Asli communities.
Sustainability Practices: Uses paper packaging.
Order via GrabFood.
Something as small as ordering from an eco-friendly restaurant can collectively make a big difference on our environment! Let's start being more eco-conscious consumers to help the sustainability of our planet. 
Avocado smoothie, avocado pesto, avocado cheesecake… The type of dishes that can be created with avocados seems literally endless when starters, mains, and desserts can incorporate the fruit. Yes, avocado is a fruit, for those unaware!
In fact, avocado is known around the world for its nutritious benefits but what exactly does that mean for your body? Wild Ginger celebrates Avocado Day this 31st of July by sharing some fun facts and scientific facts on avocados with you:
Let's Hass Some Fun
Fact, not fiction: avocado is related to the same family as cinnamon.
In 1969, Sir Hans Sloane, an Irish naturalist, coined the term avocado but simultaneously referred to it as alligator pear – luckily the U.S Department of Agriculture introduced the latter to its lexicon.
More than 3,000,000 images of avocado toast were uploaded to Instagram daily in just the summer of 2017, so the current number is probably uncountable!
Bravocado To the Scientists
All You Avo Wanted
View this post on Instagram
Type of Avocado: Unspecified type from Australia, America, & Mexico
Order: via Beepit
Price Range: From RM 5.50 per piece
View this post on Instagram
Type of Avocado: American Hass, Australian Hass, Australian Shepherd, Mexican Hass, Kenyan Hass, & Indonesian Butter
Order: via WhatsApp
Price Range: Varies according to type
View this post on Instagram
Type of Avocado: Australian Hass, Mexican Hass, & Philippino Hass
Order: via Instagram
Price Range: Varies according to set chosen
View this post on Instagram
Type of Avocado: Unspecified American type, Kenyan Hass, & Unspecified Indonesian type
Order: via the official website or Grab Food
Price Range: From RM 10.60
You might have heard about it from your health-conscious yoga instructor or seen your in-the-know Instagram friend swear by its benefits. But if you are still clueless to what kombucha really is, for the love of gut, you're about to get a Kombucha 101 crash course!
At its simplest level, kombucha, or the "booch" as some like to call it, is fermented tea. It is typically made by brewing together tea, sugar, liquid from a previous batch and a colony of live bacteria and yeast known as SCOBY, essentially short for symbiotic culture of bacteria and yeast.
This beverage, with the perfect balance of tang and tart, has managed to gain a cult following over the years as it's known to be a great source of probiotics – but most of all, it just tastes really good! The probiotics found in kombucha can improve gut health and aid digestion.
Now, if that pitch got your attention and you would like to taste the benefits of the booch for yourself, we've put together a list of some homegrown Malaysian kombuchas below:
View this post on Instagram
Sourced from local farmers and the first Halal-certified kombucha in Malaysia, WonderBrew Kombucha is produced in small batches to preserve its quality and freshness. The company also encourages sustainability by upcycling its SCOBY into vegan leather, as well as running recycling programmes for its customers. Their popular blends include Markisa Breeze, a concoction of passion fruit with a hint of mint, and Lite Green, for those who prefer lite tea with a smoother and floral after-taste.
View this post on Instagram
Founded by two good friends in 2017, Belly Good Kombucha is brewed and bottled right in the heart of Kuala Lumpur. Made using premium tea biscuits sourced from their various tea plantations in Yunnan Province, China, Belly Good's kombuchas are guaranteed to give you an optimally balanced brew with the right amount of crisp and refreshing flavour. Their current flavour combinations include First Love (lychee and pu-er tea), Piña Colada (pineapple, coconut and green tea), Lululemonade (lemon, ginger and green tea) and Golden Goddess (ginger, lemongrass, turmeric and pu-er tea).
View this post on Instagram
Wild Kombucha is the brainchild of Jason Tan who recognised what a simple, fizzy booch could do for his health and skin. The Malaysian artisanal kombucha brand handcrafts its brews in small batches using natural ingredients, such as real fruits, to make every sip pleasantly fragrant and delightfully healing. With 12 flavours to choose from – some of which include The Apple Aid, Lavender Lemonade, Tropical Mango and Sencha Pear, there's something for every taste bud. If you're feeling bold, you can also go wild with their Cultured Coffee kombucha, a refreshing fermented coffee that helps promote good digestion.
View this post on Instagram
Founded by plant-based chef, Matthieu Morisset and fitness trainer, Ishaq Vadillo, ChaCha Kombucha is made with 100% natural ingredients for guilt-free drinking pleasure. Brewed in a microbrewery in Damansara Perdana, ChaCha's kombuchas are expected to pack a fruity and fizzy kick to help make healthy living enjoyable. Customers can enjoy a range of flavours such as Love Bucha (raspberry), Green Bucha (apple, carrot, spinach, celery and cucumber) and Buzz Bucha (vanilla).
View this post on Instagram
Fairly new in the market, this homemade kombucha brand was created with the purpose to make Malaysians feel good both on the inside and the outside. Zenboocha carefully selects its natural ingredients to produce unapologetically flavourful and annoyingly guilt-free brews. All four flavours from Ginger Honey to Passion Potion has refreshing flavours packed with antioxidants that are great for your gut.
We don't know about you, but you can never go wrong with a fizzy bevvy that's also rich in probiotics, especially on more scorching days. We'll drink to that!
Shoppers can now enjoy another way to shop safely and seamlessly during the Full Movement Control Order (FMCO). Pavilion Kuala Lumpur, Malaysia's leading premier shopping destination, presents its new drive-thru service, enabling shoppers to shop without having to leave their car.
Minimising social interaction and practising safe distancing has never been more important during the nationwide lockdown. Now, with Pavilion KL's drive-thru service, shoppers will not only avoid queues at stores, but save time as well as money on delivery fees.
The drive-thru service is available for purchases from selected food and beverage outlets as well as retailers permitted to operate during the FMCO. Those missing their favourite coffee, snacks, food and sweet treats from Pavilion KL can now pre-order from outlets such as illy Caffe, Harriston Chocolatier Café, Baskin Robbins, Calia, Grand Imperial Seafood Hot Pot & BBQ, Rakuzen and D Empire, and simply drive-thru to pick up their order.
On top of that, shoppers can also drive-thru to pick up their contact lenses or prescription glasses from a range of optical stores. With the drive-thru service, shoppers can pick up multiple orders from different tenants at the same time, at no extra cost. Click here for the full list of participating tenants for Pavilion KL's drive-thru service.
Shopping has never been this easy. To utilise Pavilion KL's drive-thru service and pick up purchases at Pavilion KL's designated drive-thru pick-up point at the Chulan Entrance (see map above):
Contact the participating outlet to place order and organise for pick-up between the operating hours of 10AM- 9PM daily. Last pick-up time differs from outlet to outlet.
Make payment via online transfer, credit or debit card, or cash on delivery.
Share car registration number and inform the outlet of preferred pick-up time.
Drive to Chulan Entrance at agreed time to collect order (max waiting time of 5 mins applies).
In compliance with the government's standard operating procedures (SOPs) during the FMCO, selected stores offering essential services will continue to operate daily. To shop for essentials, shoppers can visit Pavilion KL to stock up on groceries and household items at Mercato (Level 1) and purchase medicine and personal care items pharmacies, such as Caring Pharmacy, Watsons and Guardian located on Level 1 from 10AM to 8PM daily. Click here for the full list of operating outlets.
dōTERRA, a leading health and wellness company, recently celebrated its fourth anniversary in Malaysia via a virtual event that brought together over 6,500 participants. The highlight of the event was the launch of the company's first-ever food product, TerraMix FB, to the Malaysian market.
TerraMix FB is naturally flavoured lemon-apple botanical beverage that provides a good source of soluble and insoluble fibers through a mix of natural apple fiber, tapioca fiber and ground flaxseeds.
"The Malaysian Dietary Guidelines recommends the intake of 25 g to 30 g of dietary fiber per day, which is equivalent to consuming a lot of vegetables, fruits and several bowls of oatmeal together," said Ethan Wang, General Manager of dōTERRA Malaysia. "TerraMix FB will make it easier for Malaysians to obtain the recommended amount of dietary fiber on a daily basis, with each serving of the flavorful botanical drink providing up to five grams of dietary fiber."