WIP On The Park is welcoming families to celebrate Father's Day browsing the wares of local vendors this Sunday, June 19. From 12pm to 9pm, a line-up of homegrown brands will be featuring their sustainability focused products at a very special Papa Day Pop-Up sale at Marc Residence.
Participating brands include Dia, which curates artisanal handmade gifts and fashion products, Unplug, the ultimate online eco shop in Malaysia, Kualesa's sustainable bamboo lyocell apparel, and Haus of Rami, the sustainable 100% hemp shirtmaker.
The first 100 visitors to make vendor purchases will enjoy a 10% discount on à la carte orders at WIP On The Park. Patrons to WIP On The Park will also enjoy discounts and promotions by pop-up vendors. Finally, Mister Rodrigo and Roshan from Laksa Records will be serving up fresh beats throughout the event.
To stay up to date on this and other exciting events, visit WIP On The Park's Facebook page at: https://www.facebook.com/wiponthepark
The Ministry of Communication and Multimedia Malaysia (K- KOMM) through MyCreative Ventures Sdn. Bhd. (MyCV) presents RIUH Raya Souk this 23rd and 24th April at Sentul Depot from 4pm till 12am, in conjunction with the month of Ramadan.
While we begin the transition to the endemic phase of life as we manage Covid-19, MyCV would like to invite the whole Keluarga Malaysia to celebrate our local creative talents as RIUH Raya Souk featuring 109 homegrown retail brands offering everything from apparel, accessories, Raya cakes and cookies, kids care, home decor and beauty offerings.
Get Raya ready with plenty of fashion favourites to choose from including Whimsigirl, Velvet Vanity, Machino and Nazifi Nasri as well as newcomers, Lathalia Jewellery, Harirose, Inisaya and Samora. Spruce up the home and decorate with plants from Kayan Tropika, bedsheets from Urban Edit. Co and homeware by Naren Home.
Satisfy your hunger pangs with the best of buka puasa food including classic Kelantanese fare by Gamelan, Johorean dishes by Kecur, Sataysfaction satay, Phil's Pizza, MyBurgerLab, Sausage Sizzle and beverages by Bo The Avocado, Brotani and TFKL among others. Indulge in Raya treats from SheBakes, Poppy Cherry Pop, That Last Bite and desserts by F.R. Copper and gelato by The Unusual Greens.
In conjunction with Autism Awareness Month, We & I Art x Anak Seni Exhibition will feature works by autistic artists alongside Community Art Jamming sessions and merchandise for sale to support the artists. NYAWA Organisation will also bring pieces from their Mahakarya exhibition and activities in support of their cause in conjunction with the upcoming Mental Health month.
Get crafty and create at the Mini Tiled Table Workshop by Self Supply and a Recycled Paper Quilling Workshop by Steampunk Arts x Minimolly – all in line with efforts to build awareness about creating recycled art by using sustainable materials and being eco- friendly.
Give 'Plant Mixology' a try with Eat, Shoot & Roots' drinks edition and sample flavours and tastes of different locally grown herbs. Plenty of fun activities for all the family will be taking place with Raya themed Arts & Crafts at the Kids Area.
A special collaboration this RIUH Raya Souk brings you enlightening workshops by the AirAsia Foundation where you can learn the art of real ketupat weaving with Dr Jarina Mohd Jani, learn how to grow ulam plants with REWILD Malaysia and savour the fascinating 'Taste of Kerabu' with Dr David Neo. Their retail arm, Destination Good will also be available at the retail area.
"RIUH's holding company, MyCreative Ventures (MyCreative) celebrates its tenth anniversary of supporting the Malaysian creative industry this month and we as a group are excited to mark it with the return to live events and provide the deserving brands, talents and community, a helping hand. Consistency and determination is the key to the future of the creative economy and we have a lot planned this year especially so with RIUH going from state to state in a nationwide tour" stated Marissa Wambeck, Head of RIUH.
RIUH is a curated creative platform that aims to enhance the creative ecosystem by connecting homegrown brands, creative entrepreneurs, creators and artists to the community.
Check out what RIUH has in store on www.riuh.com.my or head to the Instagram & Facebook page @riuhinthecity and get connected!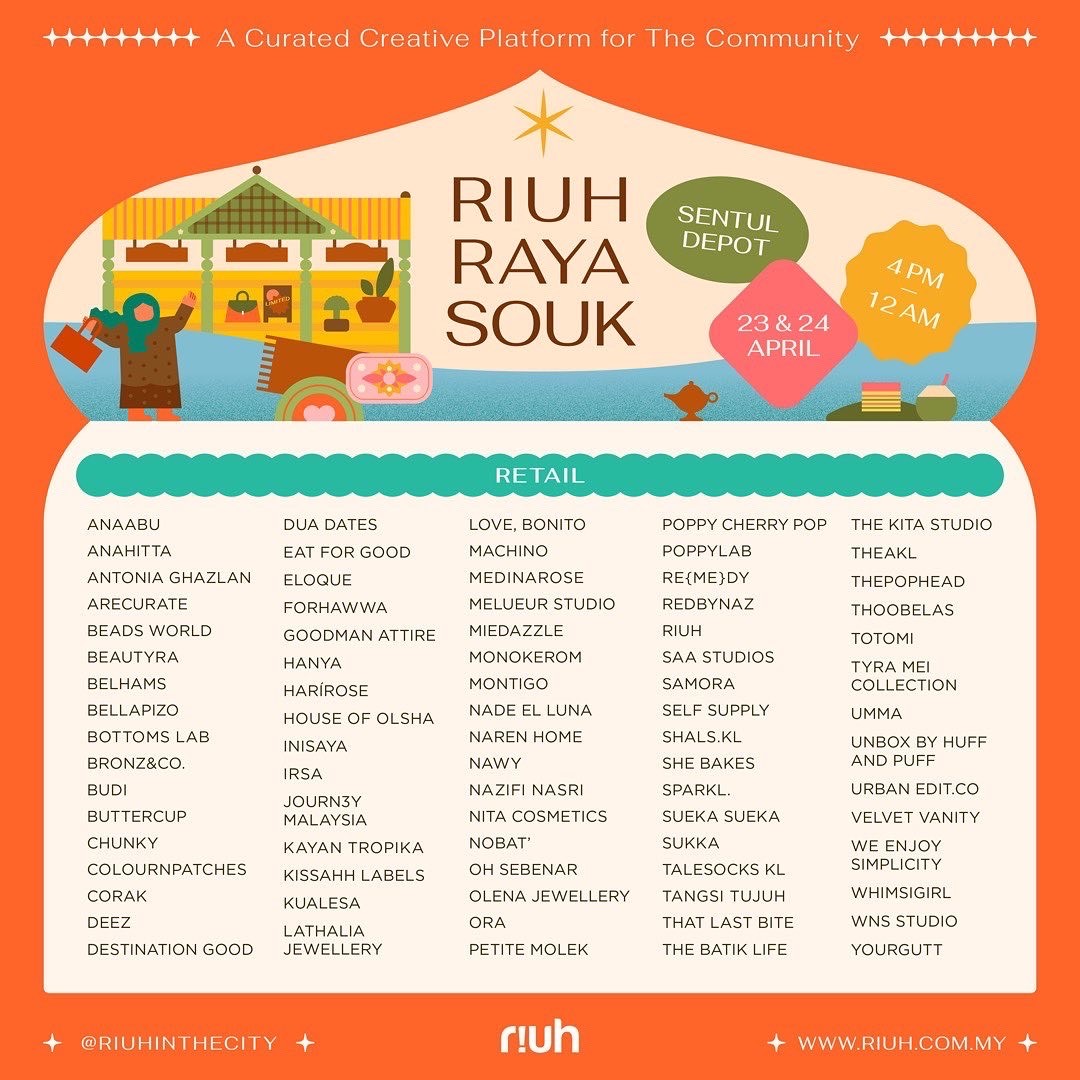 Gallery Gerimis
27 – 28 Nov | 11.30 am – 6.00 pm | 3rd Floor, GMBB | Free Admission
Learn more about our indigenous culture and identity through various activities from dance performances, puppetry performance, arts and crafts to food tasting! Hear first-hand from the Orang Asli as they share their mythical and folklore stories through a storytelling performance known as Cermor x Sewang. Get a taste of their staple foods such as cassava, rice and chicken cooked in bamboo. Check out the full schedule of all the FREE activities HERE.
Game On Lah!
27 – 28 Nov | 11.00 am – 6.00 pm | 1st Floor, GMBB | Free
Take time off the screen and enjoy more mindful 'logged off' activities with board games. Bring along your friends and families to compete and try out 10 different and unique locally made board games developed from various elements of Malaysia. Participants also get a chance to win up to 5 board games!
Art Exhibitions
11.00 am – 6.00 pm | Free Admission
1. TELUR PECAH 2021 CONTEMPORARY ART EXHIBITION
15 Oct – 28 Nov | Kesana Kesini, 3rd Floor, GMBB | Free Admission
A line-up of diverse talents – from special-need artists to senior artists, from large scale artworks to delicate sculptures, Telur Pecah is a contemporary art exhibition featuring 50 talented Malaysians sharing their interpretations of art and Malaysia through a range of unique individual styles. This is your last chance to come witness how Malaysians from all walks of life #MakeMore with their art!
2. THE "SELF" IN ART EXHIBITION BY SEKUTOO
19 Nov – 5 Dec | 2nd Floor, GMBB |Free Admission
SEKUTOO is a monumental gathering of 10 art collectives featuring 58 artists.  Inspired by the #Kitajagakita campaign, each art collective has created a collaborative artwork specially for this art exhibition. Find your-SELF in this brilliant art representation by our local artists!
3. BAKAT MUDA SEZAMAN 2021
This year the Bakat Muda Sezaman Competition by Balai Seni Negara has launched a concept of 'Seni di Lokasi' or 'Art on Site' which allows artists all over Malaysia to exhibit their work anywhere they choose. GMBB is honoured to house four (4) Bakat Muda Sezaman participants and they are:
Chloe Yap featuring a mixed media installation artwork called "I don't want really want you to see me, but I still want to show you" on the 9th Floor at GMBB
Lim Bo Qiang & Chow Chin Sien showcasing "The New Visible Horizon" which is on 3rd Floor at GMBB
Rais Azmi presenting a mobile mural called "Solitary Wall" available on the Ground Floor at GMBB
Nur Fera Ereen featuring a mixed media installation called "Alam Maya" on the 2nd Floor at GMBB
4. LoveMYBatik Exhibition by KLWKND
25 Nov – 5 Dec | The Grey Box, Ground Floor, GMBB | Free Admission
What is so special about our Malaysian batik? Get the low-down at LoveMYBatik Exhibition as it showcases the heritage, versatility and the perennial nature of our Malaysian Batik. Curated in different segments ranging from traditional Batik artwork prints by masters of the past brought out from Universiti Sains Malaysia's art collection, to contemporary reinterpretations and even a projection mapping of the batik making process – all within the awe-inspiring The Grey Box in GMBB.
Workshop & Activities
27 – 28 Nov | 11.00 am – 6.00 pm | GMBB
1. REFOCUS YOUR ENERGY WITH CARAVAN TEA BY THE OTHER SCHOOL
27 Nov @ 11.00 am – 1.00 pm | Reka2, 3rd Floor | RM20
Slow down and get off the hamster's wheel for a calming experience by trying out the ritual of tea making. Book a spot now at https://tripetto.app/run/ADV6213MMW
2. LEPAK SKETCH SESSION WITH CHAMOLOGY AND PIJ STUDIO
27 & 28 Nov @ 3.00 pm – 5.00 pm| 1st Floor | FREE
Spend your weekend lepaking over a fun laidback drawing session with a graffiti artist and illustrator.
3. PORTRAIT PAINTING USING ARTIST'S BRUSHSTROKES
27 Nov @ 1.00pm – 6.00pm & 28 Nov @ 2.00pm – 6.00pm | Reka2, 3rd Floor | RM40 – RM70
Get a unique portrait of yourself drawn by talented local artists using their individual styles and creativity.
4. GLOW IN THE DARK SPACE MURAL PAINTING BY NUR FERA EREEN
27 & 28 Nov @ 3.00pm – 5.30pm | 2nd Floor | RM 50
Test your artistic skills in creating a glow in the dark mural painting on a black mounting board. Book a slot now at bit.ly/GITDRegistration
5. STORYTELLING & BOOKMARK MAKING WITH AYANO & SANAE (Organised by Museum of Picture Book Art)
28 Nov @ 11.00am – 12.00pm & 1.00pm – 2.00pm | Reka2, 3rd Floor | FREE
A great activity to do with your kids as they learn to make their own bookmark while listening to a storytelling session. All materials provided. Prebook on https://forms.gle/tyegYMMiU2cfirCx9
6. KIRIGAMI WITH MIMI
27 Nov @ 12.00pm – 1.00pm | 28 Nov @ 12.00pm – 1.00pm & 3.00pm – 4.00pm |1st Floor | RM15
Learn to create a simple pop-up accordion book from kirigami, the Japanese art or technique of cutting and folding paper into objects or designs. You can book your slot at https://bit.ly/mimigmbb
7. MAKING 16-PAGE ZINES FROM A4 PAPER WITH AUNTY EM
27 & 28 Nov @ 12.00pm – 1.00pm & 3.00pm – 4.00pm |1st Floor | RM30
Make your very own tiny zine from a single A4 sheet, guided by the award-winning visual artist Emila Yusof! Grab a seat and book your slot via WhatsApp +6013- 2482278
*For kids aged 7-12 years' old          
GoCar Malaysia today announced the GOLADIES campaign offering free GoCar Garage trials with upgrade options to encourage more women drivers to experience the benefits of its one-stop digital car service and maintenance solution.
Available via the GoCar App, the seamless end-to-end platform with its transparent pricing structures can help enable women to confidently take control of all their car care needs without having to worry about hidden charges or surprise costs.
Service for free with upgrade options and free delivery for GOLADIES
Through the campaign, the first 300 women customers to apply the relevant promo codes via the GoCar mobile app will receive a free or upgradable pit-stop oil change service. GoCar Garage uses only premium Total or Shell branded oils.
The respective promo codes are as follows:
"PITSTOP1" for Mineral Oil service package, totally free (normal price RM98)
"PITSTOP2" for Semi-Synthetic Oil service package for only RM30 (normal price RM128)
"PITSTOP3" for Fully-Synthetic Oil service package for only RM100 (normal price RM198)
They can also enjoy having their car serviced without needing to take time off work or leave their homes, as GoCar is offering free GoValet door-to-door delivery for the campaign.
Other benefits include free two-hour use of a GoCar vehicle, free car wash and sanitisation and a free 31-point vehicle inspection to help ensure their car is in tip-top condition.
The one-time-only promo codes must be used between 21st October and 30th November 2021 but customers will have until 31st December 2021 to redeem their service appointments.
The GOLADIES campaign is available only for the Klang Valley. Vehicles will be serviced at the GoCar Garage Hub in Petaling Jaya.
Car servicing at your fingertips; no hidden charges, no surprises
"GoCar Garage is the latest offering in our increasing focus on mobility-as-a-service to harness technology to improve customer experiences. We understand that car servicing is generally not an enjoyable experience and the prospect of unexpected costs can be unsettling. For women, there also tends to be greater concerns about being overcharged or taken advantage of, which is why our GoCar Garage solution is ideal for them," said Wong Hoe Mun, CEO of GoCar Malaysia.
"With our seamless end-to-end platform, they can complete the entire car servicing process with just their mobile phones. Furthermore, they can be assured of OEM-level service excellence as our technicians are trained to work on any make and model of passenger vehicle."
"More importantly, we are the only third-party car service centre to provide upfront quotations for pre-approval so they can rest assured of full transparency in our pricing," he added.
Through the GoCar mobile app, customers can easily schedule and confirm their service appointments, select or request required services, make payments and arrange for door-to-door delivery, anytime and from anywhere.
In addition to the 45-minute oil change, other services include battery inspection and replacement, tyre services, air conditioning repair and maintenance, brake repair and maintenance, engine cooling system and replacement, electrical diagnosis as well as body and paint repairs.
The mobile app tracks all requested services and generates quotations to mitigate any possibilities of unapproved mark-ups. Furthermore, these cost breakdowns will only be generated if the technicians think a procedure is required after inspection. Work will only begin after customers give their confirmation and approval.
To find out more about GoCar Garage, schedule a free vehicle inspection or make a service booking, download the GoCar mobile app or visit https://www.gocar.my/garage.